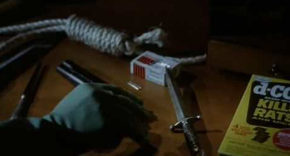 Na Halloween i rođendan Jamie Lee Curtis (?!), maskirani hroptajući ubojica napada bejbistericu i njenog dečka. Kao oružje odabrao je krvoločnu – spajalicu. Ubojici itekako smeta seks, makar baci poneku drkicu na sportašice u dvorani, pa ubija sve parove koji se odluče za malo dodatnog fizičkog dodira.
"Student Bodies" patim još sa početka dvijetisućith kada je u određenim krugovima bio jedan od onih "kultnih" zaboravljenih slashera za koje se mislilo da nikada neće izaći na DVD-u. Pred kojih dvanaest godina, mislim da sam čak iz SAD-a naručio bootlegove ovoga i slično "nestalog" slashera Curtains. 2007. godine film se napokon pojavio na DVD-u, a nedavno je izašao i na Blu-rayu.
Riječ je, kao što ste i sami mogli vidjeti iz uvoda, o parodiji na slashere koji su te godine žarili i palili kino blagajnama. U ovom filmu skupila se ekipa od kojih je doslovno njih troje ili četvoro ikada ponovno glumio u nekom filmu, a zanimljivo je da glas ubojici daje Richard Belzer, stand-up komičar koji je nema poznatiji kao detektiv Munch iz Law and Order: Special Victim Unit i ako se sjećate, odličnog Homicide: Life on the Street.
Film izgleda prilično diletantski napravljen, gluma je za ništa, montaža je početnička, a ostaje dojam da je jedina poanta parodija te senije previše pazilo na nekakav smisleni izgled završnog proizvoda.
Tip komedije u filmu je čisti slapstick, onaj recimo to tako toilet humor kakav je proslavio Leslie Nielson u filmskom serijalu sa detektivom Frankom Drebinom. Začuđujuće, ali u filmu ima i podosta dobrih fora. Par puta sam se dobro nasmijao, ali dakako ima i brdo onih koje su totalno jeftine. Dakako većina je ovakvih glupastih. Kroz osamdesetak minuta ovog filma isparodiralo se dosta filmova iz te ere, poput Halloweena i Prom Nighta, pa bi film eventuyalmno preporučio ljubiteljima slashera koji bi ovu horror komediju trebali pogledati onako čisto reda radi.