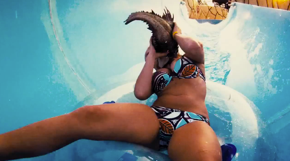 Godinu dana nakon masakra obrađenog u Piranha remakeu, dolazi do vrlo slične situacije u vodenom zabavnom parku. Tematski park koji se fura na zabavu za odrasle (čitaj: svaka druga ženska osoba je potpuno gola), cijevima je spojen na lokalni kompleks podzemnih jezera i rijeka i na piranama je da odrade još jedan brutalni napad.
Ajin remake Joe Danteovog filma Piranha iz 1978, bio mi je začudo prilično dobar filmić. Po mom guštu vrlo je kvalitetno uspio iskombinirati trash i čistu zabavu te je bilo za očekivati da će se snimiti nastavak. Drugi dio nismo morali dugo čekati, dvije godine kasnije sa očito manjim budžetom i drugačijim tipom sitribucije (video on demand + limitirana kina), redatelj John Gulager donosi nam nastavak. Recenzije su bile svakakve, bilo je tu pozitivnih i negativnih kritika, a u kino sam jučer navečer otišao bez ikakvog očekivanja.
Piranha 3DD i u ovoj "jeftinijoj" varijanti uspjeva u onome što joj je primarni cilj – nasmijati, podariti par over-the-top scena i u globalu zabaviti svoju publiku. John Gulager, čovjek koji je stoji iza sva tri dijela Feast serijala, Piranhi 3DD je opalio svoj pečat. Vrlo su evidentna obilježja spomenutih Feast filmova (utjecaj i kasnije spomenutih scenarista), pogotovo dvojke i trojke – pregršt bizarnih scena, pretjerani, ali uspješni toilet humor, ali sa druge strane i poveće rupe u logici, glupe situacije i niz scena kojima fali onaj finalni touch da ispadnu odlične. Scenaristi filma su Patrick Melton i Marcus Dunstan iza kojih stoji po nekoliko Fast i Saw filmova.
Ime filma "Piranha 3DD" referencira pirane, 3D i grudnjake (DD kao veličina, bar u SAD-u). Kada bolje razmislim, sise su u većem fokusu nego ubojite ribe. Bar desetina cijelog trajanja filma u gro planu ima bar poneki (goli) dio ženskog tijela, tako da vjerujem da će i taj aspekt imati svoju ciljanu publiku.
Po marketinškim najavama koje je studio izbacivao u promotivnoj kampanji i sami ste uvidjeli da se u filmu pojavljuje David Hasselhoff. Tip je u filmu genijalan, samoparodičan lik mu odlično paše – gotovo pa mogu reći da je riječ o kultnoj ulozi. One muškom spolu zanimljiviji dijelovi glumačke ekipe uključuju girl next door slatkicu Danielle Panabaker (Friday the 13th, The Crazies, ali meni poznatija kao kćerka James Woodsovog lika u seriji Shark) i Katrina Bowden (Tucker & Dale vs Evil, seksi sekretarica u NBC-evoj seriji "30 Rock").
3D u filmu je klasičan – potpuno nepotreban, dok u par situacija čak i kvari sliku. Sva sreća da je tu samo dva tri evidentna kiksa (kakvih je bilo i u prethodnoj Piranhi), pa u cijelom trajanju 3D gledatelju ne kvari ugođaj.
Kada bi uspoređivao Piranhu 3D i 3DD, zasigurno mogu reći da je prijašnja iteracija modernog Piranha koncepta mnogo bolja. Aja je snimio film sa glavom i repom, dok se Gulager gotovo ekskluzivno fokusira na bizarnosti, što stvar niz negativnih udaraca filmu. Uz sve mane, Piranha 3DD je definitivno film za ekipu – ako ga krenete gledati kao bilo što drugo, rezultat će biti porazan.