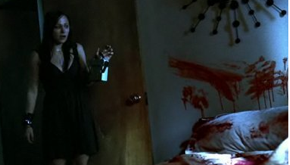 Helen se budi u četiri ujutro prvoga dana nove godine. Brutalno mamurna, ispovraća sve oko sebe i onako razbijena sa čuđenjem promatra kaos koji se dešava na ulicama grada. Požari, helikopteri, sirene hitnih pomoći – sama sebe pita što se dogodilo od kada se napila. Kada netko počne manijakalno lupati po vratima njenog stana, shvaća da je situacija još gora – oko nje se zbiva zombie apokalipsa.
Nedavno sam u jednom od zadnjih shoppinga napokon nabavio cijelu prvu sezonu serije Fear Itself. Dosta dobar box set sadrži svih trinaest epizoda iz ove varijante na uspješan Masters of Horror TV serijal. Do sada sam pogledao i recenzirao nekoliko epizoda (Circle, Landisov In Sickness and in Health, Ronny Yuov Family Man te Brad Andersonov Spooked), a od sada na dalje iz naslova izbacujem konstrukciju sezona+epizoda budući da je postajala samo jedna sezona, a raspored epizoda na DVD-u je različit od onog kako se prikazivalo na TV.
New Year's Day je zanimljiva epizoda koju je režirao Darren Lynn Bousman (Saw), a za scenarij je zaslužan Steve Niles (30 Days of Night). Od prvog trena i bez informacije o redatelju sve smrdi na Bousmanovo djelo, čovjek ima taj svoj vizualni identitet pun brzih rezova (i "bljeskova"), koji je OK, ali meni je čak i pomalo smetao. Sa druge strane sviđalo mi se kako je vrlo inteligentno prebacivao radnju iz današnjeg dana u jučerašnji, preobražaj kadrova je izgledao odlično.
Briana Evigan iz Sorority Row glumi slatkicu koju napadaju zombiji i na kojoj je da se nekako dogega do stana svoje frendice za koju zna da je živa. U pokretu između dvije lokacije nailazi na niz problema, od krovoločnih zombija do poremećenog starca koji je želi riješiti, a dinamike ima napretek, tako da mogu reći da sam uživao u gledanju. Bousmanovi zombiji u ovoj epizodi su drugačiji od klasika na koje smo naučeni (i onih Romerovih i ovih modernijoh bržih), fokus je na nekakvo krckanje vratovima i manijakalnije pokrete lica. Pohvala za odmak od standarda, makar mi je to konstantno krckanje ala Bruce Lee djelovalo malo over the top.
Ono što je posebno pamtljivo kod "New Year's Day" je rasplet, vrlo originalno, posebice u zombie podžanru horrora. Ta završna ideja mi i nije najbolje sjela, ali je zasigurno interesantna.