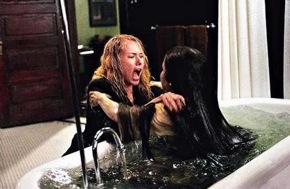 Nakon što je remake Japanskog filma The Ring odlično prošao na kino blagajnama, ali i među kritičarima, bilo je sasvim jasno da će se snimiti i nastavak. Koliko se sjećam, ova Američka dvojka nema nekih poveznica sa Japanskom, ali ono što ih povezuje je redatelj Hideo Nakata, kojemu je ovo prvi film snimljen za englesko govorno područje. Nakon što je rješila probleme sa Samarom u jedinici, Rachel sa svojim sinčićem mora ponovno proći sličnu noćnu moru…
Na Halloween su domaće TV postaje pošteno zakazale, očekivao sam da će se od 23h prikazati bar jedan kratki maraton sa 2-3 horror filma. Nula bodova za HTV, nula bodova za Novu TV, a RTL se bar malo iskupio sa postavljanjem The Ring Two (Krug 2) pola sata prije ponoći. Na Halloween sam ove godine ostao doma, uz frenda se zaljepio uz TV. Pogledao sam par filmova taj dan (Reykjavik Whale Watching Massacre, Dark Night of the Scarecrow i Embrace of the Vampire), ali kada sam legao u krevet nisam mogao propustiti spomenuti Krug 2.
Japanski original Ringu je odličan, remake je sasvim zadovoljavajuće kvalitete, ali brate mili ova dvojka je poštena debilana. Ono što je najvažnije za Ring famu, recimo to tako ukleta videokazeta, ovdje se koristi samo u uvodu, a sve ostalo je potpuno izmjenjeno. Starih pravila više nema, sada Samara pokušava nevezano za kazetu opsjedati Rachelinog sina, jer joj fali majčinske ljubavi. WTF? U ovoj dvojci najviše se vremena troši na Rachelinu potragu za novom istinom, rješavanjem ovog novog problema koji je očajno smišljen i potpuno ubija sve čari originalnog (JP i USA) Ringa.
Dali je ona dobra majka? Dali je psihotična ludara koja želi ubiti svoga sina? Eto film se na trenutke bavi ovim pitanjima… Bljak, a tek nova pravila poput Samara nas čuje sve što pričamo, ali kada sanjamo onda možemo diskutirati da nas ne skuži – wtf…
Film se može podičiti sa dva pozitivna aspekta – gluma (Naomi Watts i ovaj mali su klasično dobri), te jezivim pojavljivanjima Samare koji su isto tako poslovično dobro odrađeni. Sve ostalo je promašaj samo takav…