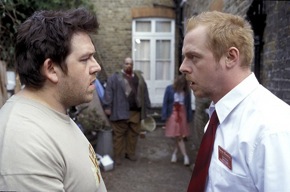 Horror komedije generalno ne uspjevaju. Većina njih iza sebe ima osobe sumnjivih kreativnih sposobnosti, pa finalni proizvod ispadne u najbolje slučaju jedva prolazan. Uz godine i godine loših pokušaja, svako toliko se desi neka iznimka koja i ako ispadne dobra (Slither, Piranha 3D), vrlo često ni blizu ne zaradi onoliko koliko bi zaslužila. Kako bi se reklo, sa filmom Shaun of the Dead – Europe comes to the rescue.
Shaun of the Dead je odličan primjer kako se može napraviti dobra kombinacija žanrova – horror i komedija su ovdje sljubljeni u nešto iznimno zabavno. Koncept filma su kreirali Edgar Wright i Simon Pegg, od kojih je prvi i režirao film, a drugi odlično odglumio Londonskog bedaka Shauna. Ova dvojica, te veliki dio glumačke postave, u Velikoj Britaniji su imali skoro pa kultni status sa serijom Spaced, iz koje se brdo detalja referencira u filmu.
Shaun je klasičan zgubidan, živi sa cimerom koji je okorjeli ljenčina, provode vrijeme igrajući igrice ili pijući u lokalnom pubu. Njegov životni stil se baš ne sviđa curi, koja ga na početku filma otkanta, ali Shaun uskoro otkriva da mu to nije najveći problem. Jednog jutra, njegova dosadna svakodnevnica postaje mnogo zanimljivija, nađe se usred zombie infestacije.
Prepun odličnog humora, "Shaun of the Dead" je stvarno jedna od rijetkih horror komedija koju sam već pogledao zasigurno 4-5 puta. Moj DVD je negdje zapakiran i čeka "bolje sutra" u nekakvoj lijepoj stalaži, ali mi je nedavno došlo HR DVD izdanje, pa sam se odlučio na još jedno gledanje. Usput, film je kod nas izašao pred koju godinu, ovo sam usputno od distributera dobio paketić sa par filmova.
Odlično mi je kako se film počinje otvarati sa nizom situacija iz Shaunovog redovnog života koje na trenutke imaju nekakve veze sa zombie ikonografijom (hod ujutro iz kreveta, ljudi na autobusnoj stanici etc) – malo po malo se gledatelja zajebava sa tim humorističnim red herring situacijama. Kada prava akcija krene, sve se odvija kao po žici – dobra zabava, nešto malo napetosti i odlični komični trenuci.
Zombie makeup efekti su na razini, ljudi su se stvarno potrudili da filmu daju kvalitetan vizualni pečat. Razina glume prati kvalitetu scenarija. Film je od početka do kraja odrađen za zavidnoj razini, mogu reći da mu nisam našao baš niti jednu zamjerku…