Američka vojska ponovno se zabavlja sa famoznim Trioxinom, kemijskom komponentom koja je zaslužna za ustanak zombija u prva dva filma "Return of the Living Dead" franšize. Ovaj put kemijske komponente otvoreno koriste za oživljavanje mrtvaca sa ciljem stvaranja nove generacija vojnika. Radnja filma prati zaljubljene teenagere koji prisustvuju oživljavanju jednog zombija u laboratorijskim uvjetima, što dečku kasnije daje ideju kako oživjeti ženu svog života nakon prometne nesreće u kojoj je poginula.
"Return of the Living Dead" je kultni serijal koji je žario i palio po videotekama. U to doba dok još nije bilo Interneta (u nas), uopće se nije moglo pohvatati dali Return spada u Romerovu Living Dead franšizu ili ne. To je bilo doba dok je svaki film Roger Moorea bio "James Bond", dok ne bi stavio kazetu u player i uvidio da stvar nema veze sa kulerskim tajnim agentom. Moja ekipa je "Return of the Living Dead" serijal opetovano gledala, a sjećam se da smo tek naknadno na pohabanoj VHS-ici dobili "Dawn of the Dead". Zombiji su bili itekako "in", ali tada i nije bilo previše dostupnog materijala, pa mi se "Return of the Living Dead III" itekako urezao u sjećanje.
Poput Romerovih filmova u kojima smo imali stanovitu evoluciju zombija, pet godina nakon opičenog "Return of the Living Dead II", Brian Yuzna je preuzeo redateljsku palicu i doneo nam ljubavni zombie horror. Gluma je na sasvim solidnoj razini, pogotovo nakon dvojke (sjetite sa famozne Michael Jackson scene), a okosnica priče je oživjela djevojka koja ne postaje "pravi" zombie već se postepeno mijenja iz pankerske kulerice u krvoločnog mesoždera koji se fura na samozljeđivanje.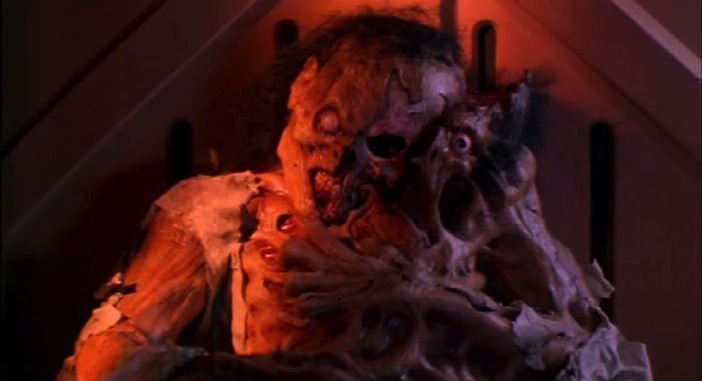 Dok mi je radnja prva dva filma onako više pasala budući da je bila riječ o masovnijoj invaziji zombija, mogu reći da "Return of the Living Dead III" uopće nije toliko loš hororčić i evo više od dvadeset godina nakon što je snimljen. Čim je Brian Yuzna i igri znate da morate očekivati praktične zombie efekte sa velikom količinom solidnog maekupa i gorea, tako da film na tom planu uopće ne odskače od očekivanja. Jest da su određeni zombiji malo gumasti, ali nema veze – čupanja udova i kasapljenje svega i svačega itekako poboljšava stvar. Kako sam spomenuo djevojka brije na reckanje same sebe, budući da joj to "smanjuje glad", tako da ima i zanimljivih načina spremanja federa, čavala i ostalih metalnih predmeta.
Ma baš mi je bilo drago ponovno ovo pogledati, puno bolje od velike većine crappy zombie filmova kojima nas bombardiraju u zadnjih deset godina ili pak "nastavaka" ove franšize snimljenih back-to-back 2005. godine – "Return of the Living Dead 4: Necropolis" i "Return of the Living Dead 5: Rave to the Grave".