U pauzi od prošlog posta iz HorrorHR vs San Francisco serijala, mogli ste čitati o ne baš zanimljivoj solidnoj Box Office uspješnici "The Messengers". Tehnički to i nije bila neka pauza jer sam film gledao u AMC kinu u centru San Francisca, ali evo ponovno se vraćam sa, kako bi ekipa iza DeadPit radija rekla, creamy horror goodness. Osim razno raznih Virgin Megastoreova i sličnih glomaznih audio-videofilskih rajeva, po drugi put sam posjetio Rasputina. Smješten blizu početne stanice poznatog SF cable cara, Rasputin je DVD/CDshop koji se rasprostire na 5 katova. Tamo se stvarno svašto može naći, a posebice polovnih DVDa.
Evo ukratko kako izgleda horror sekcija u Rasputinu (uz zvuke glazbe iz "Dellamorte Dellamore").
Cijene u Rasputinu su stvarno niske (što je spomenuo i FilmTV u svom novom postu), te ako niste u smrtnoj borbi sa korištenim filmovima možete jako dobro proći.
Postoji čak i posebna polica za Azijske horror i bolesnije filmove: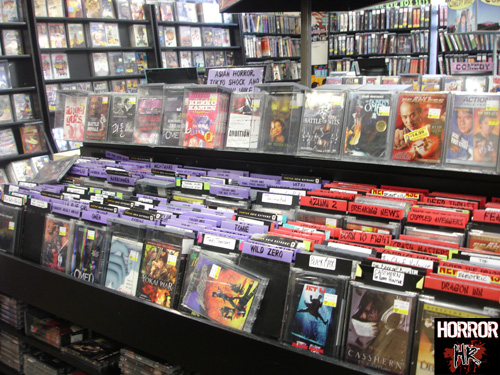 Horror DVD police su mi nevažne u onom trenu kada ispred sebe vidim stotine originalnih VHS horrora. To mi se rijetko dešava, pamtim jedino da sam jednom u Danskoj ostao paf pred sličnim "fenomenom". Ovaj put sam u San Franciscu pogodio jack pot – u razgledavanju smo naletili na jednu opskurnu, ali ogromnu videoteku. Kada smo uletili i vidjeli da imaju toliko filmova da doslovno imaju sekciju "serbo-croatian movies" rekao sam si OK – gdje su se skrili ti horror gadovi…
Par metara dalje, zaokret u desno i Valhalla – ispred mene se pojavilo par povećih polica sa toliko horror VHS kazeta da bi mogao satima buljiti u njihove covere.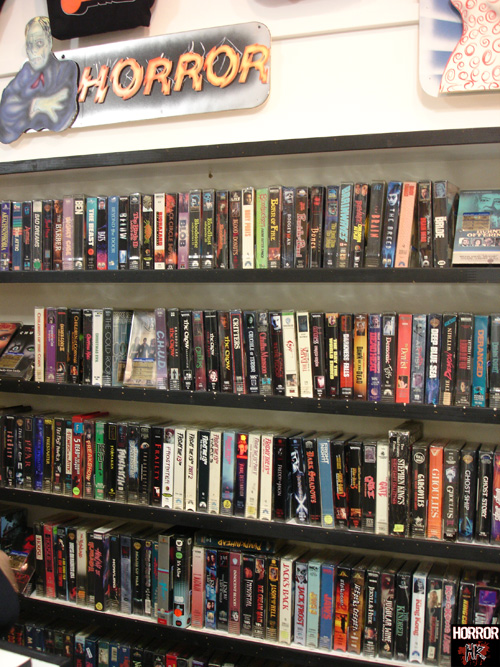 Mislim nisam neki ljubitelj VHS kazeta u globalu, ali originalni horror HSovi nude cijeli jedan divan alternativni svemir kojega možeš promatrati samo crpeći sve te old school covere. Da ne kažete da ne mislim na vas, posjetioce HorrorHRa – evo osim fotke i jedan video pregled filmova. Ako vam ne pada na pamet koja je muzička podloga video clipa, imate taj žuti VHS cover u prvoj sekundi filmića.
Mislim, stvarno se sve može naći od originalnih "Army of Darkness" i "Halloween", do filmova poput Barkerovog "Rawhead Rex".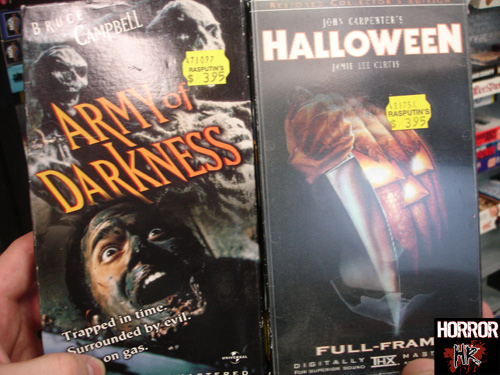 Ostao je još samo jedna finalni dio HorrorHR vs. San Francisco eskapade, a taj je o stvarima koje sam kupio. Ahhh, the horror :-)