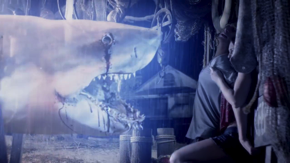 U neko davno doba kada su VHS kazete žarile i palile, uživalo se u filmovima sa shark attack tematikom. Jaws je bio kultni naslov, a dvojku i trojku smo iznajmili po desetak puta. Jaws 4: The Revenge je po meni preteča svih ovih modernih bizarnih horrora sa morksim psima. U njemu je, ako se sjećate, morski pas eleviran na science fiction nivo, budući da jedna psina ima doslovno personalnu vendetu protiv obitelji Brody i – pazi sada – nekako ih nađe na Bahamama.
Casper Van Dien dignuo je mojoj ekipi ponovnu ljubav za morske pse u horrorima u filmu Shark Attack iz 1999. Podžanr je postao ono nešto "za ekipu", posebice sa bedastim nastavcima poput Shark Atttack 3: Megalodon. U moderno doba, morski psi su postali muze ekipe iz SyFy Channela i The Asyluma te ih se moglo vidjeti u svim mogućim kombinacijama – u tornadima, protiv Jersey Shore ekipe, sa dvije glave, u pijesku i šta već ne. Ekstenzivnu kolekciju članaka i recenzija ovih filmova imate dakako na HorrorHR-u.
Nakon Sharkanada, pitao sam se gdje će ove morske beštije sljedeće završiti. Upravo se snima indie film sa zombie morskim psom, a tema današnjeg osvrta je morski pas koji je duh. OMFG, nisam nikada mislio da ću ovo napisati, morski pas duh. Šok i nevjerica.
Film otvara ribar koji nikako da ulovi morskog psa na kojeg se nafitiljio. kad neide udica, pali alternativa. Počne pucati po njemu pištoljem i bacati bombe. Psina krepa, a leš otpluta do misteriozne spilje, pune isklesanih čudnih znakova. Spilja oživljava morskog psa u obliku prozirne manijakalne beštije. Svaka čast, kapa dole scenaristima.
Znate što je najbizarnije? To što je morski pas duh nije naluđa stvar u filmu. Pitate se kako je to moguće? E pa čitajte dalje…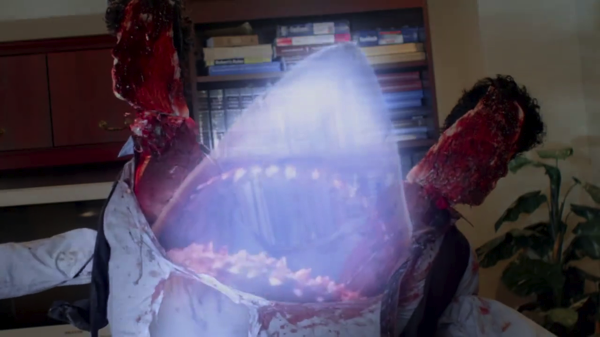 Morski pas se počne manifestirati ne samo u moru, već u bilo kakvom obliku vode. Vodoinstalater koji popravlja cijev u kuhinji postaje žrtva. Murjak koji popije pola deca vode postaje žrtva. Mulac koji stane u lokvu – opet žrtva. Morsko pseto od kakvih 7-8 metara se sada može pojaviti u kubnom centimetru vode. Svaka čast opet, ovo je za standing ovations!
Dali trebam išta dalje pisati o Ghost Shark? Film je jednostavno nevjerojatan. Film za ekipu! Ako ga gledate sami kao ja, niste baš previše normalni i zagasite ovaj prozor u browseru.