Dok sam prošli tjedan bio u Londonu na FrightFestu, morao sam ritualno posjetiti Forbidden Planet u kojemu uvijek nađem nešto zanimljivo za kupiti. Na listi preporučenih kolekcija od strane zaposlenika našao se strip Crossed.
Kod stripa dakako prvo sudiš knjigu po koricama i ono što sam vidio odmah me zaintrigiralo – hrpa krvoločnih manijaka vs. grupica normalnih ljudi. Volume 1 sastoji se od 240 stranica i sadrži deset stripova koji su izlazili od kraja 2008. godine do pred kraj 2009-te. Autor stripa Crossed je Garth Ennis, kreator odličnog stripa Preacher koji je izlazio pod tvrtkom Vertigo.
Riječ je o horror survivalu u kojemu je došlo do pošasti bjesnila i u kojemu grupa neinficiranih pokušava doći do Aljaske u potrazi za mirom. Inficirani se prepoznaju po tome da ih na licu izađe osip u obliku velikog križa (radi toga i ime Crossed), a ono što je oko njih zanimljivo je da su nevjerojatno brutalni. U potpunom ludilu jedini cilj im je ubijanje, silovanje živog, mrtvog, muškog i ženskog i što interesantnije kasapljenje žrtava.
Pratimo grupu preživjelih deset mjeseci nakon inicijalne infekcije i njihovu svakodnevnu borbu sa inficiranima po putu na sjever, ali i jedne čete koja ih od početka prati.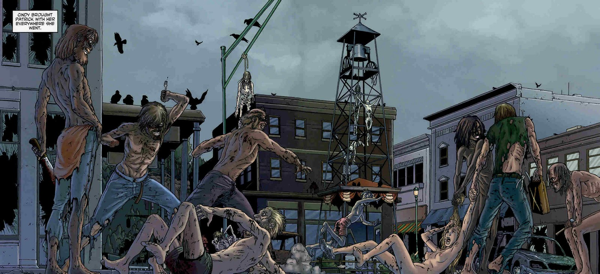 Ako ste čitali Preachera, znate da Ennis ima opičenu maštu i lud smisao za humor, što definitivno daje poseban obol radnji ovakvoga tipa. Ono što me na početku obradovalo, ali kasnije malo i smetalo je da Crossed nekako vuče na The Walking Dead. Postoji niz poveznica po formatu i apokaliptičnoj situaciji u kojoj se nalaze preživjeli, dok je Kirkmanov The Walking Dead ipak kvalitetniji. Ennisov scenarij me uopće nije ni blizu držao zagrijanim, za to je bio crtež Jacena Burrowsa, koji je fantastičan i vrlo je kvalitetno obradio neke Ennisove idejne boleštine.
Primjer brutale u stripu se može vidjeti u sceni dok muž ostaje sa kćerkom i ženom koja je uganula nogu, a kada dolaze "prekriženi", dijete raščupaju u dijelove sa mačetom i siluju oca dok on gleda taj prizor. Boleština rekao sam vam. Pred kraj ovog Volume 1 izdanja nalaze se svi dvostrani coveri iz stripova – vrhunski crteži, doslovno za staviti na zid kada bi bili u obliku postera.
Ennis nije želio raditi nastavak ovoj svojoj originalnoj priči, tako da su sljedeća izdanja smišljena od strane Davida Laphama. Ennis se ipak predomislio i vratio u Crossed: Volume 4 – Badlands.