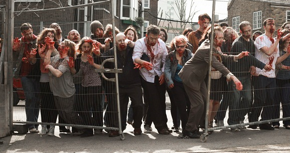 U dijelu Londona pod imenom East End pratimo nespretni pokušaj pljačke u organizaciji dva tupava brata. Kako nemaju roditelja, posebno su povezani sa djedom smještenom u staračkom domu koji se planira srušiti. U pljačku idu da spriječe to rušenje, ali kada sa svojim timom od još tri dileje opljačkaju banku napadne ih policija. A onda policiju napadnu zombiji.
Tijekom prošlogodišnjeg FrightFesta redatelj i producenti filma Cockneys vs. Zombies izašli su pred publiku i prikazali par minuta ovog filma. Već tada je bio cilji dovršiti ga u roku od godinu dana i premijerno pokazati na ovogodišnjem festivalu. U međuvremenu je izašao zanimljivi trailer, pa sam sa veseljem večeras prisustvovao svjetskoj premijeri. Nisam očekivao ništa kalibra filma Shaun of the Dead, ali zanimao me novi pogled na borbu londončana protiv zombija.
Za početak, samo da objasnim malo naslov filma. Cockneys je ime za ljude koji dolaze iz East Enda, dijela Londona koji se sastoji od nekoliko okruga. Koliko sam jučer skužio u pubu gdje sam popio par pivica sa nekoliko ljudi sa festivala, taj pojam nije niti negativan niti pozitivan, već onako ističe jedan dio londonske populacije. Ono što ih iz naše perspektive razlikuje je malo zajebaniji engleski, ali se i na njega nakon pol minute možeš priviknuti.
Prva stvar koja me pozitivna iznenadila u filmu je inicijalna infekcija. Ok to što su na gradilištu našli zapečaćeni grob i nije nešto posebno, ali prvi zombie koji započne kažin je izgledao kao da je izašao iz Return of the Living Dead serijala. Kupili su me odmah… Ono što sam mislio da će mi u filmu biti najgluplja stvar, fokus dijela priče na grupicu staraca u penzionerskom domu, ispalo je najbolja stvar. Starci kao starci protiv zombija ne izgleda ništa zanimljivo, ali kada njihovog vođu glumi Alan Ford (Lock, Stock and Two Smoking Barrels i Snatch) stvari se odmah mijenjaju. Kada se pojavio pred publikom, ljudi su podivljali, ja iskreno nisam ni imao pojma tko je budući da nisam pogledao spomenute, po svima kultne, filmove. Tip je legenda samo takva, a u filmu glumi starog maderfakera koji u borbu protiv zombija ulazi sa žarom Ramba. Stvar mi je bila jednostavnija kada je scenarist filma rekao da je ovo ulogu pisao baš za njega…
Film me 4-5 puta dobro nasmijao, ali nije neki pretjerani spektakl. Humora ima, ali je fokus filma ipak na konstantnu makljažu sa zombijima. Bar pola sata se konstantno mitraljira i kasapi nemrtve cockney zombije, ali volio bi da se malo proradilo na scenariju koji zasigurno odaje počasti odličnom Shaun of the Dead. Vjerujem da je bolja publika za film baš ovdje lokalci iz Londona, budući da ima nekih referenci koje su namijenjene za njih.
Zombiji su spori, kao oni pravi koje je u filmskom svijetu popularizirao George A. Romero. Scenarist James Moran, odabrao je sporije zombije jer im se može ubaciti karakter (mama zombie čije se dijete iz kolica torpedira nogom kao u Braindeadu, navijački neredi u zombi varijanti, zombie vs. starac sa hodalicom itd.) Vizualno izgledaju solidno, ništa posebno, dok mi je u par scena zasmetao CGI korišten u njihovom tamanjenju.
U globalu, zabavno kino iskustvo, ali moglo je i bolje…