Tim psihologa i istraživača natprirodnog dolazi u ladanjsku kuću u kojoj je obitavao čovjek koji se bavio vještičarenjem. Već u prvom pokušaju komuniciranja sa njegovim duhom uspjevaju i gospodin se najavi koristeći tijelo jednog od članova ekipe za prizivanja duhova. Makljaža počinje ubrzo.
Nastavljam u revijalnom tonu sa filmovima snimljenim krajem osamdesetih. Witchtrap je film koji do sada nisam gledao, ali je odabran radi redatelja Kevin Tenneya. Čovjek stoji iza meni vrlo dragog Night of the Demons, a par godina prije Witchtrapa snimio je film sličnog imena – Witchboard. Vidim da taj nemam recenziran na sajtu, koliko se sjećam nije me baš impresionirao. Dakako to bi mogao reći i za spomenuti Night of the Demons, koji je tek nakon trećeg iznajmljivanja VHS-ice upao u zonu filmova "u plusu".
U filmu Witchtrap, fokus je na raznorazne bedaste smrti uzrokovane letećim sjekirama, autima koji sami daju po gasu i tuševima koji se poput zmijinog ugriza zabijaju golim djevojkama u vrat. Gola scena, Linnea Quigley, tko bi rekao. Nije pamtljiva scena poput zabijanja ruža za usne u grudi, ali ajde… Bizarna je i scena koja se pojavljuje u repeatu 5-6 puta korz film dok duh opsjeda ženu, a ona uz neku disko horor mjuzu se baca po sobi.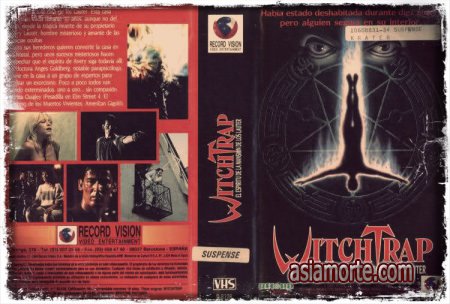 Nisam nešto impresioniran, film je baš klasična bedastoća u kojoj odmah znaš cijeli tijek radnje. Ono što je najposebnije u Witchtrapu je definitivno sinkronizacija. Očito su svi glasovi nasnimljeni pa ponovno stavljeni u film. Emocija u glasu kao sinkroniziranje na poljskoj televiziji. Glas, čista ravna crta, nevezano dali lik umire ili sjedi u stolici i diskutira.