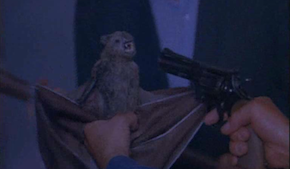 Društvo teenagera dobiva poziv od misterioznog vlasnika muzeja sa voštanim figurama da premijerno prisustvuju otvaranju novog eksponata. Na izložbi su prikazani poznati monstrumi iz svijeta horrora – od vukodlaka, vampira, mumija, do markiza De Sadea, ali u pozivu postoji jedan mali kiks – vlasnik uz pomoć mladeži pokušava oživjeti svoje monstrume.
Waxwork je horror sa elementima komedije u kojemu glavne uloge imaju Zach Galligan (Billy iz Gremlina), te Deborah Foreman (Muffy iz filma koji je ubio 80s slashere "April Fool's Day"). Ovog filma se još sjećam iz doba VHS-a i vjerojatno mi je radi nostalgije prema tom dobu ostao u dobrom sjećanju.
Film ima prilično zanimljivu ideju – svaki eksponat unutar muzeja voštanih figura ima svoj zasebni život, te teenageri kroz nevidljiva vrata postaju protagonisti određenih horror situacija. Uz zabavne efekte tipične za kasne osamdesete, Waxwork se može podičiti sa iznimno dobrom atmosferom. Prvih polovica filma mi je prva liga, dok kasnije prema kraju postaje sve bedastije (mega fajt, LOL).
Zadnji puta sam ga gledao dosta davno, pa sam već zaboravio da Waxwork nudi podosta dobrih killova. Što reći kada film otvara situacija gdje jedan tip drugome gura glavu u zapaljeni kamin u kojemu potonjem izgori cijeli gornji dio tijela. Poslije imamo tu svega, štakore koji grickaju noge tipa očerupanih do kostiju, gnječenje i vađenje glavi od strane dlakovuka, eksplodirajuća vampirska tijela itd. I to sve bez CGI efekata, milina za pogledati makar većini to sada djeluje jeftino (reklo bi se cheesy).
Uz brdo mana, posebice na planu scenarija, Waxwork mi ostaje drag film. Vrijeme ga je malo očešalo, ali nostalgičarima to neće smetati.