Kada sam već prestao sa gledanjem serije, vrijeme je da nastavim sa odličnim Kirkmanovim stripom. Taman sam tjedan dana na godišnjem, pa pročitah (u jedan dan) četiri volumea koji završavaju sa epskim Vol 21: All out war – part two.
Kaos u The Walking Dead svijetu kreće korak dalje kada Negan i njegovo "pleme" počnu koristiti Ricka i društvo kao nekakvu verziju apokaliptičnih robova. Periodično im dolaze u naselje i uzimaju po polovicu svega što su ovi uspjeli nabaviti – od hrane do lijekova.
Negan i Rick imaju nekakav svoj čudan odnos, djeluje da što se Rick više buni ovaj ga nekako više poštuje, ali i paralelno sa tim kažnjava. Od situacije sa Lucille i jednim od omiljenih (do tada) likova, Negan pokazuje svoje brutalno lice, ali i oprašta u nekim trenucima koji bi itekako trebali donijeti do smrti Ricka, Carla i koga već ne.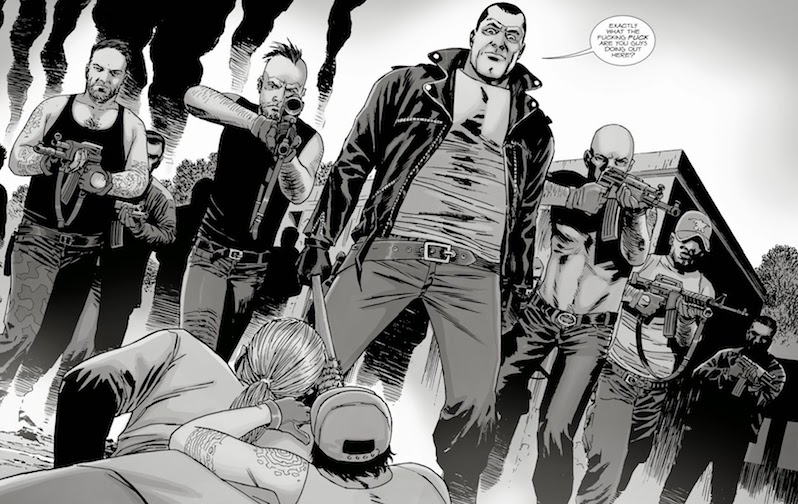 All out war story arc je jedna od najočekivanijih saga unutar The Walking Dead svijeta i Kirkman je ubrzao sa izbacivanjem te ovih 12 stripova objavio kroz nekih 7 mjeseci. Stvar se čita bez pauze, brutalna borba (možda ne tolikom epska koliko sam mislio), sa nizom prevrata i solidnim (ali opet malkice i razočaravajućim) završetkom.
Strip je i dalje vrhunski, osim spomenutih elemenata i tigra ubojice (heh) nemam nekih zamjerki…
Moji prijašnji tekstovi o stripu:
+ The Walking Dead #001-#012 (Image Comics, 2003-2004)
+ The Walking Dead #013-#024 (Image Comics, 2004-2005)
+ The Walking Dead #025-#036 (Image Comics, 2006-2007)
+ The Walking Dead #037-#048 (Image Comics, 2007-2008)
+ The Walking Dead #049-#067 (Image Comics, 2008-2009)
+ The Walking Dead #068-#078 (Image Comics, 2009-2010)
+ The Walking Dead #079-#102 (Image Comics, 2010-2012)