Vampirella je stripovski lik koji je osmislio legendarni Sci-Fi ljubitelj Forrest J Ackerman davno 1969. godine. Seksi polugola vampirica koja brutalno ubija članove svoje vampirske rase počela je kao jedan od "prezentera" u stripovskoj antologiji Creepy (ala Tales from the Crypt), a uskoro je dobila i svoj serijal. Kroz godine došlo je do financijskih problema u tvrtkama koje su pod svojim pravima imali Vampirellu, a od od 2010. godine pod svoje okrilje ju je uzela poznata tvrka Dynamite.
Osim što su u jedanaestom mjesecu 2010. godine startali novi Vampirella serijal, momci iz Dynamitea su izbacili nekoliko tomova sa odabranim Vampirellinim stripovima. Vampirella Masters Series Volume 1 sadrži odabrane priče iza kojih stoje scenaristi Grant Morrison i Mark Millar. Ova knjiga od 176 stranica se sastoji od poglavlja "Ascending Evil", "Holy War", "The Blood Red Game" i "A Cold Day in Hell". Svi stripovi su izašli sredinom 1990tih.
"Ascending Hell" i "Holy War"
U ova dva poglavlja na kojih 140 stranica skupljeni su stripovi koji su izašli kao Vampirella Monthly #1-#6. Ovaj revival serijala je započeo sa ponovnim uvodom u Vampirellu, seksi vampiricu koja je majci obećala da će pobiti cijelu vampirsku rasu. Majka joj je injače Lilith, kraljica pakla i majka svih vampira. U prvom dijelu ove spojene priče, pratimo događaje vezane za širenje vampirskog klana u New Yorku, gdje kreću u eliminaciju poznate mafijaške obitelji. Nekolicina brutalnih vampira u pratnji genijalnog negativca Von Kreista kroz samo nekoliko stranica pokazuju kakve macabre ideje imaju Mark Millar i Grant Morrison. Nakon brzinske makljaže, Vampirella spašava Dixie, jednu od mafijaševih kćerki i ona kroz mjesec dana postaje njena pomoćnica. U Dixieno društvo krećuy o finalni obračun sa monsinjorom i njegovim vampirskim legijama.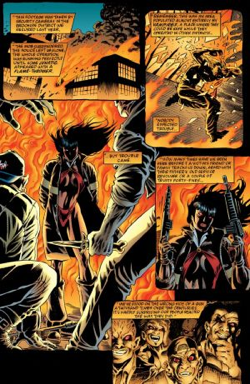 Priča ovog prvog poglavlja (prva tri stripa Vampirellla Montly serijala) je vrhunska, makar do sada nisam imao nikakvog stripovskog dodira sa Vampirellom, odmah se ubaciš u njen svijet i uz brutalnu radnju i savršen crtež jednostavno gutaš ono sa čime te kreatori stripa hrane stranicu po stranicu. "Vampirellu" sam do sada vidio jedino u istoimenom filmu sa Talisom Soto u naslovnoj ulozi (ako niste gledali, obavezno pogledajte, ima par "spektakularnih" scena – dakako u stilu filma za ekipu, ama baš ništa više od toga) – a stripovska Vampirella je dakako još bolja. Obučena kao ispljuvak iz nekog sex shopa u SOHO-u, proporcija kojoj bi zavidjele i najokrjelije porno silikonuše, Vampirella kombinira good looks i izrazit instikt za ubijanjem vampirskog roda.
Spomenuti Von Kreist je negativac kakvog se samo može poželiti, spomenuti ću samo par usputnih scena: šeta se po Rimu i onako usput uz razgovor gurne malu curicu da se utopi u rijeci ili pak dok mu pada helikopter, uspkeva u zadnji tren popraviti stvar i to tako da helikopter uputi prema igralištu punom djece. Ovaj manijak nije vampir već lich, živi mrtvac koji je u ratno vrijeme u Prusiji odigrao karte sa vragom – i dobio. Brutalan, vizualno impresivan, kultni lik.
"Holy War" je drugi tercet epizoda u kojemu Vamipirella u pratnji "sestrinstva" kreće na finalni obračun sa vampirima u Italiji i to u fajt sa nikim drugim nego Judom Iškariotom. Sestrinstvo je elitni crkevni red ženskih ubojica vampira, koji su za vrijeme inkvizicije imali nekoliko tisuća članova, a sada ih je živo samo oko dvadesetak. Vizualno interesantne, izgledom kao iz nekakvih SadoMazo vježbi, cure služe kao backup u krvavom obračunu. Ovaj drugi dio ima recimo to tako malo više akcije (makar je i prvi krcat dinamike), ali mi nije sjeo tako dobro kao "Ascending Evil". Malo su iskomplicirali sa nekakvim obratima koji se diraju u prošlost/budućnost, ali u paketu je opet bilo dobro štivo.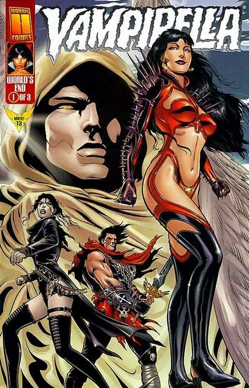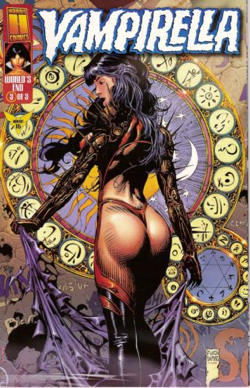 "The Blood Red Game"
Ova priča je izašla 1996. godine u sklopu "Vampirella: 25th Anniversaty Edition" izdanja. Riječ je o priči u kojoj se obrađuje jedna od Vamiprellinih neprijateljica – The Blood-Red Queen of Hearts. Ova kratka slasher epizoda je vjerojatno zanimljivija ljubiteljima Vampirellinih prijašnjih stripova, a ovako sama za sebe ne nudi ništa posebno.
"A Cold Day in Hell"
Objavljena u Vampirella Strikes #6, ova priča sadrži nešto ala "30 Days of Night" gdje vampirsko pleme na Aljasci planira detonirati nuklearnu bombu i time spriječiti da im sunčeve zrake rade problema pri životu i hranjenju. OK strip krcat vampirica Vampirellinih proporcija.