Dio ovih stripova sam pročitao mjesec-dva, ali sam skužio sada da nisam napisao par riječi o tim dogodovštinama Ricka i njegove skupine. U dosadašnjim tekstovima pratio sam "pakete" po dvanaest stripova koji su izlazili u zasebnim TPB izdanjima, dok ću sada više manje članke dijeliti po svom nahođenju i brzini čitanja.
Prijašnji tekstovi o stripu:
+ The Walking Dead #001-#012 (Image Comics, 2003-2004)
+ The Walking Dead #013-#024 (Image Comics, 2004-2005)
+ The Walking Dead #025-#036 (Image Comics, 2006-2007)
+ The Walking Dead #037-#048 (Image Comics, 2007-2008)
U ovom rasponu od broja 49 do 67, zapravo bi mogli radnju podijeliti u dva komada. U prvih desetak stipova ovoga niza, ekipa napušta zatvor i kreće dalje. Reakcije određenih likova su burne, pogotovo nakon brutalnih događaja u kojima su neki izgubili glave (doslovno). Nastavlja se sa općim psihičkim raspadom određenih članova ekipe, "unutarnjim neprijateljom" i dodatnim pitanja o tome koje su granice u ubijanju zlih ljudi.
Dolazi do uvođenje novih likova – Abraham, Rosie i Eugene su tu praktički isti kakvi se pojavljuju u seriji The Walking Dead. Eugene je uber VIP, čovjek koji zna kako riješiti problem sa virusom, a na Abrahamu i od sada ostaloj ekipi je da ga sigurno dovedu do Washingtona.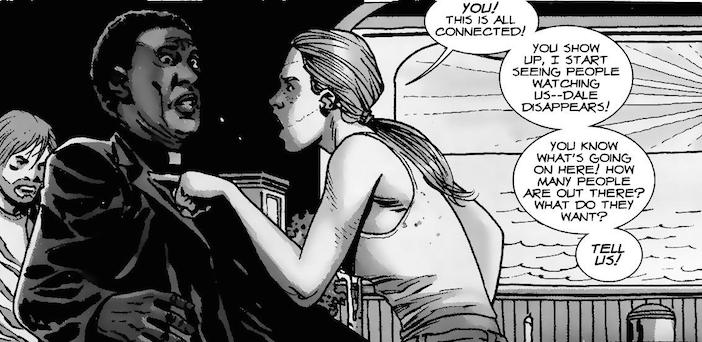 Od broja #62 počinje izrazito dobar arc podijeljen u pet stripova pod imenom "Fear The Hunters". Riječ je o situaciji kada ekipu netko prati iz prikrajka i otme jednog od glavnih likova. Ova tematika je vrlo dobro obrađena i u petoj sezoni seriji The Walking Dead (mislim da je epizoda 03 ili 04), makar su napadači i njihova meta potpuno drugačiji.
U zadnje vrijeme sam, kao što možete primjetiti po tekstovima, čitao dosta američkih stripova, ali The Walking Dead po kvaliteti drži primat.
Btw, ako pratite strip znate da su na kraju svakog par stranica pisama čitatelja uz odgovore autora. Baš je zanimljivo kroz Kirkmanove upise pratiti informacije o seriji koja je tek odobrena.