Nakon nekog vremena vraćam se The Walking Dead stripovima. Prošla dva poglavlja pročitao sam još na ljeto, sada napokon imam malo vremena da se vratim sajtu i svemu što dolazi sa njim (filmovi i stripovi). Seriju vjerojatno pratite, treća sezona se itekako popravila u odnosu na drugu, a što se zbiva u stripovima?
Informacije o proteklim dogodovštinama Ricka i ekipe, koje su usputno dosta drugačije nego one u seriji, pročitajte ovdje:
The Walking Dead #001-#012 (Image Comics, 2003-2004)
The Walking Dead #013-#024 (Image Comics, 2004-2005)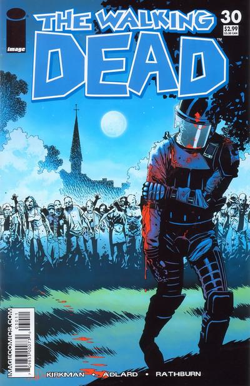 Kroz ovaj set strip ova proći ću kroz dva poglavlja: The Walking Dead Vol. 5: The Best Defense i The Walking Dead Vol. 6: This Sorrowful Life. Ekipicu pronalazimo u zatvoru, taman su ga očistili i kreću u donekle normalizaciju življenja na tom dobro osiguranom mjestu.Članovi ekipe itekako šviću, ima tu svakakvih bizarnih diskusija uključujući pozive na grupnjak !? ;) Početkom #28 Rick primjeti pad helikoptera i kreće u istraživanje. Nije riječ o vojnicima kao u seriji, već očiglednoj posveti Romerovom Dawn of the Deadu (novinarski helić). Rezultat je isti – protagnosti saznaju za Woodbury, građansku oazu usred kaosa…
Već prvi dodir sa stanovnicima Woodburya prikazuje mnogo realniju i okrutniju zbilju i u kratkom roku, usred par šojkantnih trenutaka dolazi do rivalstva koje će se morati završiti borbom za život ili smrt.
Ljudskost se topi na svim stranama, a ono što dobivamo u stripu #33 je najblaže rečeno – neočekivani nivo brutalnosti epskih proporcija. Samo ovaj strip sam već tri puta pročitao i par puta se ulovio sa izrazom gnušanja na licu. Svaka čast, to treba uspjeti!
Situacija je tu negdje kao i u trenutnim epizodama serije (sezona tri, epizoda 13), samo što je zatvor ovdje poželjnija destinacija. Rat "plemena" uskoro počinje… Strip nastavlja u svom kultnom tonu, čitam ga sa neopisivim guštom. Baš me zanima kako će stvari dalje, očekivanja su ogromna.