Iskoristio sam tjedan dana godišnjeg da se pročitam još jedan niz stripova iz The Walking Dead serijala koji od 2003. godine žari i pali stripovskim, a sada i TV te gaming vodama. U prošlom članku sam prošao prvih 12 stripova, a naši junaci su se našli pred ulazom u zatvorski kompleks za kojega smatraju da je dobro mjesto za nastaviti sa životom. Ta prva dva poglavlja (story arca) korespondirali su sa tijekom radnje u prve dvije sezone serije, a ako niste informirani o stripu – postoji veliki niz različitosti između njega i TV ekranizacije.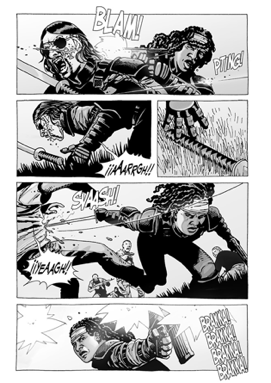 O prvih 12 stripova dao sam i više nego pozitivnu ocjenu, a komotno mogu reći da mi je ovaj drugi niz do broja #24 bio još bolji. Kao što sam rekao, radnja se dešava u zatvoru, koji je kada se bolje razmisli odlično mjesto za smjestiti svoje trupe dok je okolo zombie infestacija. Prelaskom sa Herschellove farme u zatvor dolazi do čitave nove plejade događaja, praktički se u svakom stripu dešava neka iznimno zanimljiva situacija.
Ulaskom u zatvor radnja dobiva nova krila, ne samo da se u njemu nalazi tona zombie zatvorenika, već ima i poneki živi. Ubacivanje novih likova potpomaže u razvoju nekih neočekivanih situacija (dašak slashera unutar zombie voda je hvalevrijedna ideja), a krvi i makljaže ima na svakom koraku. Kirkman vrlo kvalitetno razvija likove, njihove međusobne interakcije i perfektno balansira kvazi pokušaje normalnog življenja sa nasilnom "zabavom" sa zombijima.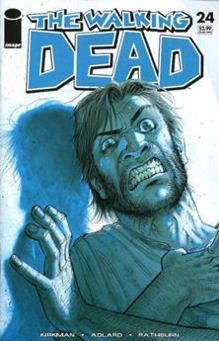 Stripovi od broja #19 do #24 spojeni su u poglavlje "The Heart's Desire" koje je izašlo u obliku četvrte TPB kolekcije. Devetnaesti broj je poseban po tome što uvodi novi lik, misterioznu djevojku koju u hodu prema zatvoru prate dva zombija bez ruku. Riječ je o muškarcima iz njenog života i već tada se vidi da će Michonne biti pravi badass lik koji je serijalu ovoga tipa itekako potreban. Baš je neki dan izašao promo za treću sezonu serije u kojemu ona u par sekundi otkida nekoliko zombie glava. Osim što pomaže u eksterminiranju zombija, Michonne upada i u ljubavni trokut te dolazi do prolijevanja krvi.
Međusobne tenzije u čemernoj atmosferi utječu na promjene u "vodstvu" grupe, a malo po malo od onoga "We've got to retain humanity", krilatice koja je pratila strip i seriju do sada, dolazi do novog stava "You kill, you live". The Walking Dead društvo je evoluiralo, a strip #24 završava sa kultnom Rickovom izjavom – "We are the Walking Dead".