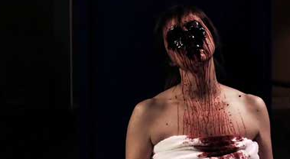 Godina je 1981. Cure iz sestrinstva Alpha Gamma Theta organiziraju party za primanje novih djevojaka u njihovo "elitno" društvo. Uz par momaka koji se nepozvanu pojave na fešti, u mraku se skriva i poremećeni ubojica, koji u svojoj glavi ima samo jedno – ubiti jednu po jednu članicu sestrinstva.
Kada je pred kojih mjesec i pol izašao sinopsis i DVD naslovnica za The Sleeper, djelovalo je kao da film ima potencijala. Bacite oko na odličan ejtis dvd cover, a i ideja da se film smjesti u zlatnu godinu slasher žanra 1981 mi je odmah The Sleeper stavila na listu poželjnih filmova za gledanje. Nedavno je Ti West u tako-tako filmu The House of the Devil odličnu skinuo atmosferu osamdesetih, a za ekipu iza filma The Sleeper moglo bi se reći onako narodski – omašili su celi fudbal.
Ona inicijalna, slasheru klaisčna scena koja se dešava par godina ranije je još i imala nekog duha osamdesetih, ali sve ostalo, da ne znaš koncept, ne bi nikada smjetio u te zlatne godine. Ok jedan tip ima 80s frizuru i mogao bi pasati u to razdoblje, ali sve ostalo se fokusira na tipa ubacivanje starog radiokazetara u prvi plan i te slične jeftine fore.
Film je snimljen sa omanjim budžetom, pa već od prvog "ludog" partya na kojem se nalazi tipa samo 7 ljudi znaš da neće biti dobro. Manijakalni ubojica, sa frizurom malo vuče na Anthony Perkinsa iz nekog nastavka filma Psycho, ali uz par prolaznih killova nije neka njuška koju bi zapamtio. Gluma djevojaka loša, razvoj radnje nula bodova. Razočaranje u potpunosti…