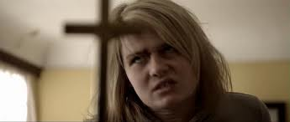 Petnaestogodišnja Emma pomalo je razuzdana teenagerica, kojoj se u zadnje vrijeme počinju događati čudne stvari. Ubrzo nakon prvog samozljeđivanja u kupaonici, Emma pred obitelji pada na pod usred naizgled epileptičnog napada. Nalazi pokazuju da je sve u redu, a uz konstantne probleme u komunikaciji sa roditeljima, djevojka završava na razgovoru kod psihologa. Psiholog pokušava hipnozom dokučiti njene probleme, ali dobiva mnogo više i u sekundi umire.
Španjolski film "The Possession of Emma Evans" iliti Exorcismus, jedan je od filmova koji će se prikazati na ovogodišnjem prvom Fantastic Zagreb Film Festivalu koji upravo danas počinje. U zadnje vrijeme ponovno se revitalizira podžanr opsjedanja/egzorcizma, te je bilo tu nekih uspješnijih naslova (The Last Exorcism), ali i onih razočaravajućih (The Rite). Ono što je zajedno kod ova dva filma i što osim tematike dijele sa "The Possession of Emma Evans" je to što se trude uvesti dašak originalnosti u egzorcist-filmove.
Nakon kultnog Friedkinovog "The Exorcist" iz 1973, snimio se veliki niz copy-paste ostvarenja, pa mi je drago da kod ovih novijih uradaka ima ideje da se napravi nešto malo drugačije. Priča sa opsjednutosti Emme Evans je modernizirana, pratimo jedan recimo to tako tipični teenagerski život – cura ima svoje probleme, sa ekipom cuga i eksperimentira sa drogama. Naznake opsjednutosti iz kuta gledanja njene obitelji izgledaju kao klasične pubertetske mušice, te se uz zanimljivo postavljene likove vrlo brzo uspiješ ubaciti u Emmin život.
Malo po malo, od benignih situacija koje izvana izgledaju samo čudne, stvari uznapreduju do praktički kompletnog raspada sistema u kojemu pratimo apsolutno uništavanje jedne, do tada, vrlo skladne obitelji. Gluma je u većini filma dosta dobra, postoje neke manje oscilacije, a osim dobrog scenarija filmu naveliko pomaže odlična režija i montaža. Film kreće odlično, ima dobar korak, te samo negdje na sredini malo zapinje kada počnu klasične scene sa egzorcizmom. Tada sam pomislio da sve upada u neke već viđene kalupe, ali scenaristi ubacuju u nižu brzinu i stvari kreću novom dinamikom i neočekivanim raspletom.
Meni je ovo ispao dosta dobar film, još jedan dokaz da europski horror val žanru diže prosjek.
PS: makar ima vrlo malu ulogu, bilo je cool vidjeti "Pinheada" Douga Bradleya u ulozi svećenika….