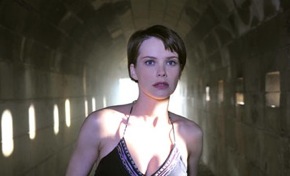 Na ovogodišnjem S+F festivalu u Trstu prikazali su novo djelo legendarnog Lamberta Bave – film The Medium (po IMDB-u) iliti Visions of Murder kako je pisalo na uvodnoj špici. Sniman u TV produkciji Mediaseta, Bavin novi giallo događa se na Malti, gdje lijepu vlasnicu kafe bara muče noćne more. U njima vidi maskiranog manijaka koji se pretvara u sjenu od jaguara i napada malo curicu. Annalisa u policijskoj postaji saznaje da je ono što je sanjala istinito.
Lamberta Bavu cijenim radi njegovih ranih filmova (Demons, Demons 2, Graveyard Disturbance) i bilo mi ga je drago vidjeti da u kinu sjedi par redova ispod mene – i to u društvu još jedne legende Ruggera Deodata (Cannibal Holocaust). Film je treći dio nepovezanog TV serijala (Sei Passi Nel Giallo) kojima su Bava i producenti pokušali vratiti strah na talijanske tv ekrane. Producentica je pred prikazivanje ponovila nešto slično o čemu sam pisao prošle godine, na talijanskim TV postajama prolaze samo klasični kriminalistički filmovi.
Kada bi rekao da me film razočarao lagao bi – ovo je ispalo jedno od većih gluposti koje sam gledao u zadnjih 5-6 godina. Radnja je klasična za giallo filmove, što i generalno nije problem, ali scenarij je blago rečeno živi užas. Film sam gledao u društvu dva frenda, a nakon polovice smo se doslovno u nekim situacijama počeli smijati. Ne mogu riječima opisati kakve banalne gluposti se nagomilavaju u filmu. Film bi trebao biti ozbiljan giallo, a doslovno mu malo fali da ispadne film za ekipu. Par pivica i društvo, smijeh na očajne situacije i lošu glumu zagrantiran.
Iskreno osim zgodne glavne glumice, tog feelinga gialla i činjenice da sam pred koju godinu pio kavu na jednom od mjesta gdje je sniman film, za The Medium ne mogu reći niti jednu pozitivnu riječ.