La Llorona je lik iz meksičkog folklora, koji je savršen za horor filmove. Do sada sam gledao par filmova i serija gdje se koristilo "tugujuću ženu", ali uz uspjeh Conjuring filmova, La Llorona je dobila i svoju kino varijantu.
Veteranka niza TV serija Linda Cardellini glumi socijalnu radnicu, koja se uplete u pojavu La Llorone, proklete žene koja je radi ljubomore ubila svoju djecu te je osuđena da ih zauvijek traži. Dakako kako svoju djecu više ne može naći, prelazi sa obitelji na obitelj ubijajući im sinove i kćerke.
Na Conjuring svijet u horor vodama gledam kao nekakav Marvel ili DC Universe u mainstreamu. Snima se toliko filmova da skoro više i nema poante, a mogu reći da baš i nisam veliki van originalnog The Conjuringa. Annabelle je (za producente) krenula super vodama, The Nun dodatno rasturila u kinima, a eto dok čekamo najavljene Annabelle 3 i The Conjuring 3 – producenti snimaju ovakve generičke horore i uz relativno niske budžete, znaju da će zaraditi kakvu pinku.
Prokletstvo tugujuće žene
Nažalost, fantastičan potencijal poput proklete žene u bijeloj haljini i sa spooky velom u ovom filmu je potpuno prokockan. Spomenuo sam pojam generičko, e pa to mi je u glavi prva asocijacija koja će mi ostati na ovaj film. Majka koja spašava svoju djecu, vrač/svećenik koji im pomaže i čitav niz "BUU" scena, koje zapravo nisu ni strašne. Kod ovih novih filmova, pogotovo kod gledanja u dobrom kinu, bar te povremeno scima kakav audio scare, ovdje skoro pa da ni toga nema. Ali zato ima konstantnog škripanja svih mogućih vrata po kući…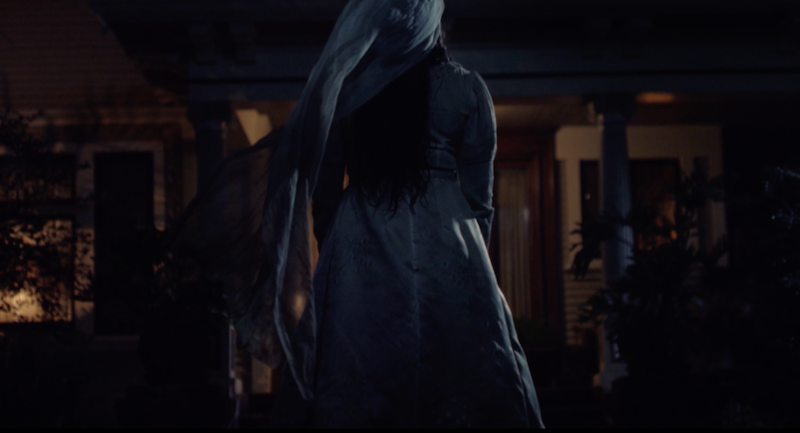 Sam fizički lik La lorone ima svojih rijetkih odličnih trenutaka i to su oni kada je njena pojava u nekakvom relativnom mraku ili je kadar od iza. Čim se malo zumira dobivamo nekakvo skoro Jokerovsko lice, a neću ni spominjati apsolutno nepotrebne CGI ekspresije urlanja.
Kod lika zvanog plačuća ili ucviljena žena, mislio bi da će za atmosferu iskoristiti njen plač, ali to je u filmu totalno minorizirano. Šteta.
"The Curse of La Llorona" je baš onako naštancan film, odrađen da se The Conjuring svijet pokuša dodatno rastegnuti, ali sumnjam da ćemo vidjeti nastavak (posebni bonus: kretenski kadar na kraju, koji daje neku naznakicu drugog dijela). Usput, ako očekujte Warrene, poveznica sa The Conjuring svijetom je otac Perez, koji se ranije bavio sa Annabelle.