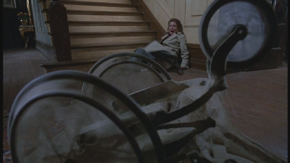 Film o kojemu sam mnogo slušao, ali koji nikada nisam pogledao, konačno je došao na red. Prekopavajući svoju DVD kolekciju i dvoumeći se dali da pogledam nešto blesavo ili ipak nešto kvalitetno, izbor je pao na ovu bolju opciju. Definitivno se nisam prevario, jer je "The Changeling" odličan predstavnik haunted house horror podžanra.
Radnja prati muzičkog kompozitora, profesora Johna, koji nakon tragične smrti žene i kćerke useljava u veliku vilu koja dugi niz godina zjapi prazna. Nakon nekog vremena, u kući se počnu dešavati neobične stvari koje ukazuju da je mjesto zaposjednuto duhom. Isprva misleći da je sve to posljedica traume, John se ipak odluči istražiti kuću i postepeno otkriva da ona krije mnogo mračnih tajni iz prošlosti.
Filmovi sa duhovima i opsjednutim kućama su mi oduvijek bili strašniji nego neke drugi primjerci dragog nam žanra. Ovo je vjerojatno radi toga što je to područje nadnaravnoga poprilično neistraženo i lakše je povjerovati u nekakvog poltergeista nego u vampira ili vukodlaka.
Osobno obožavam horrore koji se oslanjaju na atmosferu i priču, a ne samo na krv i klanje (da ne bude greške, volim ja i to), a ovaj film nudi najbolje od jednoga i drugoga. Kroz cijeli tijek radnje imamo taj spooky osjećaj koji još više dolazi do izražaja odličnom glazbenom podlogom, a i neke jezive scene su sada već antologijske u horor filmu – poput scene sa loptom. Glavnu ulogu glumi veteran George C. Scott, koji je odlično obavio svoj posao, a ni drugi glumci nisu ništa lošiji.
Definitivno film za preporučiti koji će novijoj generaciji vjerovatno biti malo spor i dosadnjikav zbog izostanka neke veće akcije, ali za prave ljubitelje old-skul duh-u-velikoj-kući-strašenja ovo je obvezna lektira. Usput, ovo je među prvim filmovima koji je producirao slavni duo Kassar-Vajna, koji su nam podarili hitove poput "Ramba" i "Terminatora".
Ovu "gostujuću" recenziju napisao je sikeone « « «