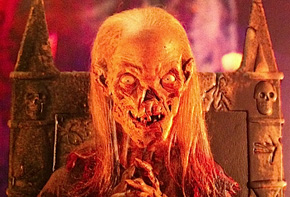 Stiglo mi neki dan 4 sezone serije Tales from The Crypt, a kako sam sada u moodu za serije (Mad Men, Milennium, Tales from the Darkside), zašto ne proći koju, meni novu, epizodu ovog klasičnog serijala. Pogledao sam prvi disk četvrte sezone, što je prvih 6 epizoda – ove brojke epizoda u naslovu su globalne brojke za cijelu seriju.
#39 – None but the Lonely Heart
Epizodu je režirao Tom Hanks koji se čak na kraju i pojavljuje. Radnja se vrti oko prevaranta (Treat Williams) koji preko VHS dating servisa upoznaje stare bogate žene, te ih postepeno kada dobije punomoć na račune ubija. Ideja već x puta obrađena, predvidljivo, te osim par dobrih oldskul makeup efekata na kraju niš posebno.
#40 – This'll Kill Ya
Epizoda sa jednim od boljih početaka – tip (Dylan McDermott) uleće u policijsku stanicu, vukući za sobom polu raspadnuti leš i policiji govori, evo ga, ovo je čovjek koji me ubio. Totalno zanimljivo, baš te zanima kako živ čovjek govori o mrtvacu da ga je ubio, a ne naopako. Tema se vrti oko testiranja nekih eksperimentalnih lijekova, finale ništa posebno.
#41 – On a Deadman's Chest
Zabavna priča o ludilu u popularnom rock bendu gdje se jedan od članova zaljubljuje u ženu koju pjevač prezire. Nervoza, ljubomora i voodoo tetovaže koje oživljuju. Nešto zabavnih efekata, prolazna epizoda.
#42 – Seance
Priča o prevarantima koji na bilo koji način pokušavaju dignuti lovu od jednog tipa, a stvari se zakompliciraju na kraju kada se svi nađu usred seanse prizivanja duhoba.
#43 – Beauty Rest
Modeli us vojim poznim (za posao) godinama ubijek pokušava ići poštenim putevima, a kada skuži da tako svijet ne ide, ubija kolegicu i preuzima njeno mjesto (sa garantiranom pobjedom) na lokalnom izboru. Izbor je vrlo čudan, što da kažem, odlaze u krajnosti "ljepote tijela"…
#44 – What's Cookin'
Nevezano za to što volim kuhati, ova epizoda mi je nekako najbolje sjela – Christopher Reeve, Judd Nelson i Meat Loaf u bizarnoj priči o vlasniku restorana sa lignjama koji shvaća da su najbolji steakovi od ljudskog mesa.
Nakon prvog diska, serija je solidna za pogledati, nije bila niti jedna epizoda koja je baš smeće, većina su prosjek, ali gledljivo – posebno nakon očajnog prvog diska serije Tales from the Darkside.