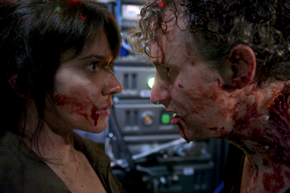 Svemirsku stanicu pogađa kiša meteora. Četvorica astronauta jedva uspije preživjeti, ali na njihovu nesreću jedna od njih uspjeva preko porezotine na ruke dobiti nekakvu infekciju uzrokovanu sporama na ostacima palih meteora. Infekcije u svemiru inače ne završavaju dobro.
Makar u zadnje vrijeme nisam pratio karijeru Christiana Slatera, vjerujem da mu bar nakon 2005. nije bilo lako. Tada je obavio glavnu ulogu u Uwe Bollovoj ekranizaciji istoimene igrice Alone in the Dark, što je i bio prvi ikada post na HorrorHR blogu. Hmmm, tek sada skužih da je nedavno bila osmogodišnjica HorrorHR-a, woohoo. Ok, vratimo se na ono "bitno". E pa Slater je očito pošteno propao kada se ppojavljuje u ovakvim Sci-Fi horror glupostima poput filma Stranded.
Kao što sam spomenuo, četiri lika, zatvoren prostor u svemiru te nekakva infekcija koja uzrokuje halucinacije i što već ne plus jeftini makeup efekti. 70 minuta ničega u svemiru, 4 minute kvazi horror scena i to bi bio Stranded.
Gluma nula, CGI efekti minus jedan, film bedastoća od A do Z…