Namkon što je spasio Los Angeles od tornada punog morskih pasa, Fin (Ian Ziering) sa svojom dragom April (Tara Reid) zrakoplovom kreće u New York. U sceni koja parodira kultnu epizodu serije The Twilight Zone gdje William Shatner na krilu primjećuje gremlina, stari beverlihillsovac uviđa morskog psa. Prvo misli da je pod stresom, ali ne…. Riječ je o Sharknado 2: The Second One, duplo opasnijem Sharknadu koji će pokoriti Veliku Jabuku.
Sharknado je definitivno upao među mainstream pop kulturu, prvi dio je postao iznimni hit na društvenim mrežama (makar mu gledanost na SyFy-u i nije bila neka) i sami ljudi su preko Twittera odabrali ime za nastavak ovakve "animal attack na stotu" ludosti. Jedinicu sam odgledaoofrle, ali dvojku (trailer) sam pogledao u miru. Film je, spektakl samo takav. Uber trashy C zajebancija koja zasigurno ima svoju publiku. Dali je riječ o vama, mislim da znate i sami kada analizirate koja vam prva riječ padne na pamet kada pomislite na frazu Sharknado.
Dvojka je definitivno otišla korak dalje, a već sada kultni status dokazala je za bezbroj cameo uloga poznatih glumaca, reality zvijezda, koga već ne, koji se pojavljuju u kratkim intervalima – samo da postanu žrtve CGIziranih morskih psina. Nevjerojatno ali u par scena se čak koriste i ne-kompujterizirane ajkule (nekakave lutkaste tvorevine), ali te čak izgledaju i lošije od ovih pikselastih.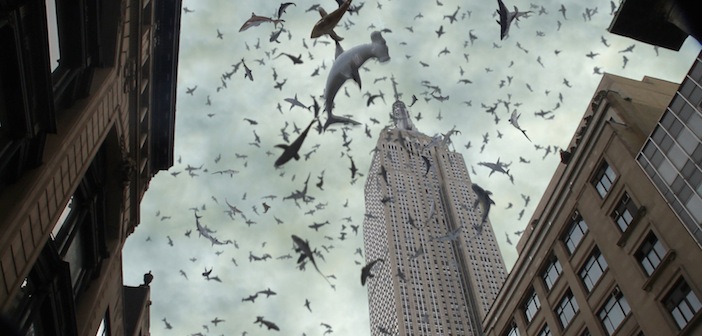 Poanta filma je da sve digne na novu razinu, a vjerujem da je to i uspio jer ovakav pretjerano bedast scenarij nije viđen godinama. U šoku sam ostao kada je jedna mini scena čak parodirala vjerojatno najbizarniji novi "žanrovski" film – Birdemic: Shock and Terror (preciznije "spektaklularnu" scenu pucanja na ptice koju imate ovdje).
Morski psi koji ispadaju iz tornada nisu najbizarnija stvar, u dvojci pred kraj imamo i "flaming sharks" – zapaljene psine koje padaju iz neba usred detonacije bombe u centru tornada. OMFG.
Moram sa vama podijeliti omiljeni dio filma. Morski psi u letu pojedu pilote zrakoplova. Steve ih zamijeni i onako iz prve krene za na sigurno spuštanje aviončine. Tara Reid dokle visi kroz rupu na avionu držeći se za komad nečega dok iz druge ruke pištoljem puca po letećim morskim psima. Jedan od njih joj odgrize ruku na zglobu. Premotajmo dalje. Finale filma. Steve od svih tisuća morskih pasa koje je pobio, iz prvog u blizini vadi njenu ruku (a ruka je sada četiri puta duža od onoga što je psina pojela), sa zamrlog prsta vadi prsten, baca ruku govoreći "ovo ti više ne treba" i zaprosi Taru Reid. THE END. LJUBAV :)
Sharknado 2 je ludilo za one koji cijene ili ih zabavlja šrot.