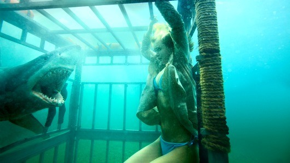 Grupica prijatelja odlazi na ljetovanje u ladanjsku kuću svoje bogate prijateljice. Kuća smještena na idiličnom jezeru u kraju u kojem bogataši provede svoje vikende je izgledala kao savršeno mjesto za partijanje, sve dok jedan od članova ekipe na svojoj ruci otkrije da u jezeru živi krvoločni morski pas.
Zadnji horror sam pogledao prije mjesec dana što je neslavni rekord kojega dugo nisam ostvario. Poklopilo mi se brdo posla, obaveza, nekoliko poslovnih puteva van zemlje, tako da sam na TV-u eventualno pogledao koju seriju, nešto politike i pokoju tekmu. Taman pred zadnji odlazak preko bare, iz Blitza mi je stigao paketić sa ovim filmom, pa kako ga nisam stigao pogledati u kinu odlučio sam se da ovo probije post od horrora.
Recenzije nisu bile nešto previše pozitivne, a i generalno filmovi o morskim psima ne nude neku kvalitetu, pa je očekivanje bilo na prosječno niskim razinama. Reklo bi se što sam očekivao, to sam dobio – Shark Night stvarno nije neki film koji će se pamtiti.
Morski psi u jezeru su u žanr uvedeni pred minimalno devet godina – Red Water sa ludom glumačkom postavom (Coolio, Kristy Swanson, Lou Diamond Phillips) pokazao nam je živine izvan morskog teritorija, dok je u Shark Night riječ o jezeru sa slanom vodom i malo drugačijim naseljavanjem psina na toj lokaciji.
Film je vizualno i dinamikom koncipiran tako da puca na mlađu publiku, a režije se primio David R. Ellis koji je zaslužan za žanrovska ostvarenja poput Final Destination 2, The Final Destination, ali i Snakes on a Plane. Svoj posao je odradio dobro, dok mi je malo smetalo forsiranje nekih fastforward scena u početnim dijelovima filma. Morski psi su rađeni kombinacijom CGI i praktičnih efekata i u globalu nisu loši. Ima par stvarno loših scena poput one sa malim psima koji napadaju jednu osobu, ali i poneka dosta kvalitetna.
Pohvaliti ću i ideju koja nije toliko klasična kakvu bi očekivao kod ovakvog tipa filma, ali sve u svemu film me nije previše oduševio. Vidim sam po sebi kada nakon 45 minuta počnem kopati po iPhoneu da autori nisu uspjeli ponuditi nešto što bi trebalo po bilo čemu odsočiti od trenutne "močvarne" svakodnevnice novih horror izdanja. Eventualno za pogledati jednom i to bi bilo to. 3D neću komentirati jer nisam gledao u kinu, ali vidim po ovom DVD-u da za tu tehnologiju nije bilo nikakve potrebe – stvarno su mi dosadni ti kadrovi di nešto namjerno iskače u centru ekrana. Uvijek me podsjeti na uvodnu špicu filma Amityville 3-D u kojoj neka grana stalno poskakuje na ekranu da se primjeti u trećoj dimenziji.