Fox je ovih dana startao sa serijom Scream Queens iza koje stoje kreatori televizijskih megahitova poput Glee i American Horror Story. Radnja se dešava u sestrinstvu na faksu, gdje je taman počelo primanje novih članova. Šefica Kappa Kappa Thaua je Chanel #1 (Emma Roberts), dok su joj u pratnji cure koje po sestrinstvu dijele isto ime ali im se sufiksi vrte od 2-5. Nakon što greškom ubiju kućnu pomoćnicu, sakriju joj tijelo, ali osveta stiže u obliku misterioznog ubojice obučenog u crveni kostim vraga.
Za početak, ovo nema veze sa showom Scream Queens koji se na VH-1 vrtio pred 6-7 godina. Tamo je riječ bila o natjecanju gdje su djevojke mogle dobiti ulogu u jednom od Saw filmova. Evo iskopah iz arhive, imam recenzije obe sezone: Scream Queens Season 1 (2008) / Scream Queens Season 2 (2010).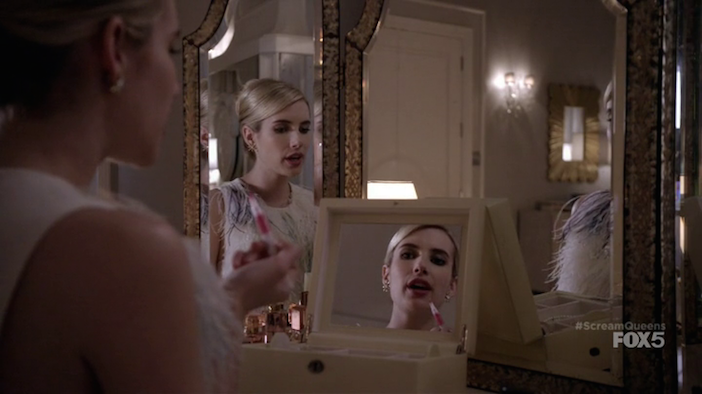 Pogledali ste trailer za Scream Queens, jel? Čisto to se mora pogledati prije gledanja serije, jer jednostavno potreban je filter. Makar serija ima horor elemente, apsolutni fokus je na na nekakvu ala-parodiju svega i svačega uključujući bilo kojeg filma o sestrinstvima i zbivanjima na koledžu koji ste gledali sa jedne strane i sa bilo kojim generičkim slasherom sa druge strane.
Unaprijed mogu reći da nisam uopće ciljana publika za ovako nešto, budući da su su slasher elementi tu 5%, a ostalo je nešto što vjerojatno moderni teenageri više cijene od mene.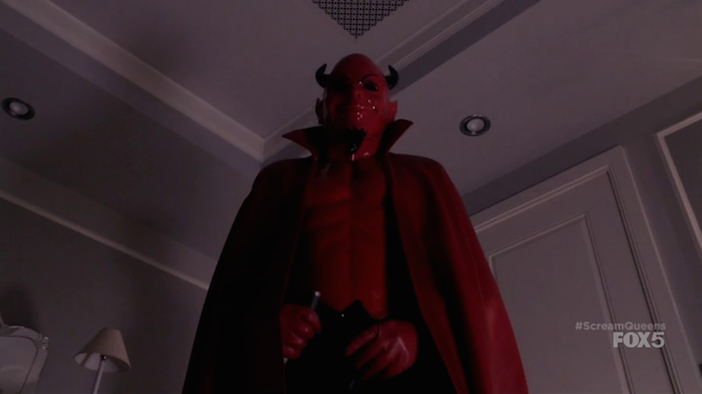 Primjer ovoga gore spomenutog uključuje:
a) gostovanje Nick Jonasa
b) otac vodi kćerku na faks i sa njom se sjeća kako je bilo davno dok su zajedno gledali Twilight u kinu i kada su bili tim Edward
c) vrag napada cutu i ne komuniciraju glasovno, već stoje jedan do drugoga i šalju si SMS poruke?!
itd… kužite na što mislim.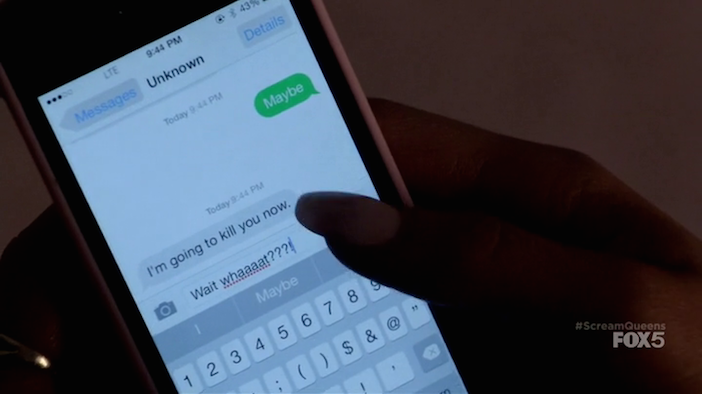 E sada, već po traileru mi je djelovalo da ovo nije za mene, ali mogu pohvaliti da sam ipak pogledao cijelu epizodu do kraja i čak ne bi sumnjao da reda radi vidim i drugu. Serija ide sa ciljem da je apsolutno primarno nekakva parodija sa ciljem za "opičeniju mlađu" publiku, dok mi je recimo Scream serija koja je isto tako nedavno izašla apsolutno negledljiva. Tamo se valjda shvaćaju ozbiljno, pa jednostavno ne možeš preći preko gluposti i zamornog ljigavoj scenarija, dok ovdje ma koliko to tupasto izgleda, nudi nekakav "guilty pleasure".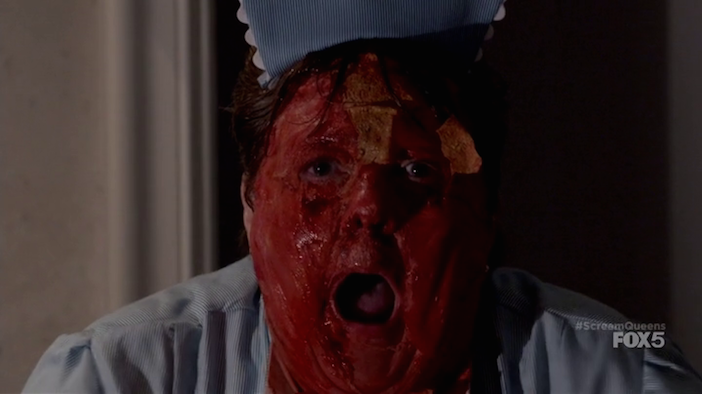 Da budemo na čisto, ovo nije serija za mene, ali vjerojatno će naći svoju publiku. Usput, pred premijeru, serija Scream Queens je oborila sve rekorde na društvenim mrežama, mislim da je bilo oko 420,000 Tweetova, ali još jednom se dokazalo da to ne garantira odličnu gledanost. Brojke po Nielsenu su li-la, tako da ćemo vidjeti kakvu budućnost imaju "kraljice vriska".
Bio je jedan review na stranom sajtu koji je rekao da je ovo horor verzija Mean Girls – dok film nisam gledao, bacio sam oko malo na YouTube i mogu reći da je OK usporedba. Usput, Emmu Roberts mi je uvijek OK pogledati, a ako ste propustili, u seriji glumi i kultna "scream queen" Jamie Lee Curtis…