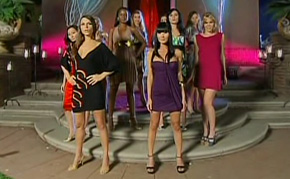 Scream Queens je reality show koji se upravo vrti na kanalu VH-1, a bazira se na borbi između deset djevojaka koje žele osvojiti titulu kraljice vriska i dobiti ulogu u šestom dijelu Saw serijala. Jednostavan koncept koji me odmah podsjetio na "The Search for the Next Elvira", reality koji sam odgledao prošle godine i koji je bio toliko loš da nisam htio ni trošiti vrijeme da vam ga prezentiram. Sva sreća, ovaj je show mnogo bolji.
Koncept "Scream Queen" ide ovako:
1) Odabrano je deset zgodnjikavih djevojaka od kojih većina ima nekakvo manje iskustvo sa glumom.
2) Montirane su u kuću da zajedno žive i prolaze kroz razne zadatke. Ovo sa zajedničkim životom nema ni blizu nikakve elemente ala Big Brother.
3) Svaki tjedan prolaze kroz tri zadatka:
a) manji izazov glume u nekoj horror sceni, najbolja dobiva imunitet
b) trening za poznatim "trenerom glume" ili nekakavim sličnim stručnjakom (casting director, stunt expert etc).
c) glavni izazov – kompleksnija horror scena nakon koje najlošija cura ispada
4) Pobjednica će glumiti u Saw VI, a ni ne sumnjam u drugim novijim horrorima.
Nevjerojatno, ali "Scream Queens" mi je odličan TV show! Produkcija je na visokom novu, osim VH-1 u igri je Twisted Pictures koji su producenti Saw serijala. Show vodi Shawnee Smith, acting coach je poxnatih John Homa, a redatelj koji snima horror scene sa curama je genijalni James Gunn (Slither, Dawn of the Dead).
Iz realitya stvarno možešp naučiti o nekim aspektima snimanja filmova, te posebice kroz redateljevu perspektivu vidjeti koje stvari pale a koje ne u snimanju scena koje bi trebale biti brutalne ili mega strašne. Nove epizode izlaze svakog ponedjeljka i ovo je jedna od rijetkih emisija koju pogledam odmah slijedeći dan.
Cure u "Scream Queens" su potpuno različite:
– par girl next door trebica
– dvije kučketine
– bogata mamina zgodna kći koja kaže da joj je teško glumiti neku tužnu scenu jer joj je u životu sve bilo prelijepo
– potpuno bipolarna žena koja u scenama pokazuje da je apsolutno luda
Horror scene su odlične, pravi je užitak gledati različite performanse koje variraju od odčičnih do onih kada doslovno moraš pokriti oči jer te jednostavno sram kako neki ljudi preglumljuju. Uz sve to, cice, guzice, pijanstva, lesbo poljupci, svađe, vrijeđanja, skoro pa fizički obračuni – gdje ćeš bolje? :)
Preporučam vam da bacite oko na ovo, show je prilično zabavan… I za kraj, malo slika iz serije: