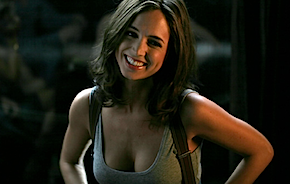 Open Graves je film sa toliko lošim DVD coverom (druga slika) da sam ga mjesecima zaobilazio. Nakon te Photoshop bedastoće, nije me zanimalo ni pročitati sinopsis – zapravo jedino što me napokon natjeralo da stavim DVD u player je to što je glavna protagonistica Eliza Dushku iliti Faith the vampire slayer.
Kad je film počeo, mogu reći da me nekako i zainteresirao – grupa frendova nakon surfanja po prelijepim Španjolskim lokacijama kod nekog lokalnog čudaka nabavlja nekakvu oldskul board game koja je složeno još za zlatno doba inkvizicije. Na pijanci počinju igrati, ali ispada da način smrti u igri garantira istovjetnu situaciju u pravom životu. Ok, nije neka originalna ideja, ali solidno za početak.
Raspoloženje mi splasnulo već nakon prve smrti u kojoj je tip pao i provaliju tako da ga je u glavu od iza pogodio vilin konjic kojeg se uplašio i survao niz liticu. Mislim WTF? Ok, dole završava kao hrana očito gladnim rakovima, ali c'mmon, ubili su atmosferu već na početku. Ostala ubojstva su "na razini" dodatno upropaštena nekakvim slow motion kadrovima.
Ostatak filma je nekakva verzija Final Destinationa gdje ekipa pokušava shvatiti kao zajebati igru, ali ni do kraja nećete vidjeti ništa previše zanimljivo. Eliza Dushku je kao uvijek, oku ugodna, a što joj na kraju napraviše sa CGI-em – majko moja. Preskočite komotno…