Od sutra se u domaćim kinima počinje prikazivati film Obred (The Rite). U ovom filmu o egzorcizmu jednu od glavnih uloga utjelovio je oskarovac Anthony Hopkins.Film sam pogledao u premijernom vikendu u SAD-u, moj stav o filmu pročitajte ovdje – The Rite (2011)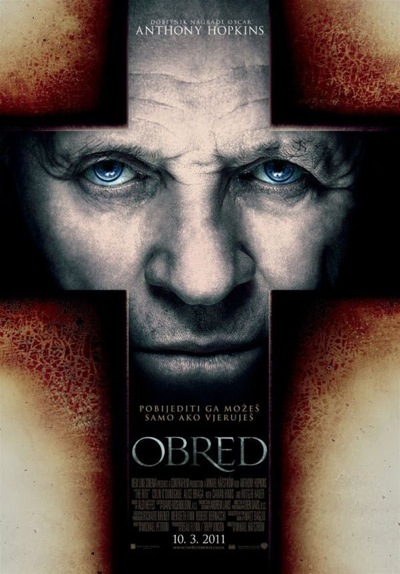 Obred je nadnaravni triler koji otkriva Đavlovu težnju da poravna jedno od najsvetijih mjesta na Zemlji.

Inspiriran istinskim događajima, film prati sjemeništarca Michaela Kovaka (Colin O'Donoghue), koji odlazi u Vatikan proučavati egzorcizam unatoč vlastitim sumnjama u kontroverzni postupak i čak i vlastitu vjeru. Oboružan skepticizmom, Michael navodi svoje nadređene da umjesto da, pri liječenju obuzetih, ne proučavaju demone već psihijatriju.

Tek kad asistira neortodoksnom ocu Lucasu (Anthony Hopkins), legendarnom svećeniku koji je izveo tisuće egzorcizama, Michaelov oklop počinje pucati. Uvučen u težak slučaj koji nadilazi čak i vještine oca Lucasa, on počinje uviđati fenomen kojega znanost ne može ni objasniti ni kontrolirati… i zlo toliko nasilno i zastrašujuće da ga natjera da preispita sve u što vjeruje.

Režiser filma Obred je Mikael Håfström (1408), a u filmu glume Oscarom nagrađen Anthony Hopkins (Silence of the Lambs), debitant na filmu Colin O'Donoghue, Alice Braga (Predators), Toby Jones (Frost/Nixon), Ciarán Hinds (Harry Potter and the Deathly Hallows – Part 2) i Rutger Hauer (Batman Begins, Blade Runner).