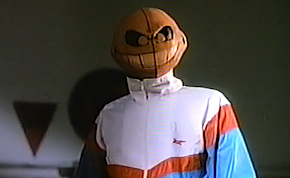 Početkom prošle godine pisao sam o bizarnom kanadskom slasheru kojeg je tvrtka Code Red izvukla iz neke jame, te restorirala i oobjavila na DVD-u sa čak par specijalnih dodataka. Film velebnog imena "Night of the Dribbler" snimljen je u vrlo očito oskudnim financijskim uvjetima, a ljubiteljima žanra nudi ubojitog "driblera", gospodina koji ubija sa maskom u obliku košarkaške lopte.
Ma koliko bizarno djelovao ovaj moj uvod, film je na n-tu potenciju bizarniji. Možda najbolji opis filma govori činjenica da me žena tijekom gledanja par puta iz druge sobe pitala zašto gledaš tako nešto loše – već sat vremena se "čudiš" na glas. I sada dok pišem u glavi mi se pokušavaju rekreirati jučerašnji trenuci "zabave" sa ovim kanadskim šrotićem.
Bez da idem u detaljne analize, film nudi slijedeće:
1) 95% radnje filma se odvija u školskoj košarkaškoj dvorani
2) Jedan glumac glumi tri različita lika. Ovo je čak i vrlo logično jer je taj tip, Fred Travalena, stvarno zabavan tip i logično je da su mu dali tri lika kada glumi doslovno bolje od svih ostalih koji se pojave pred ekranu i njihovih rođaka, susjeda etc.
3) Ubojstva sa temom košarke, ala dribbler postavlja žicu na obruč pa kada kapetan tima (koji izgleda i ponaša se kao Elvis Presley) zakuca, odrežu mu se obje ruke.
4) Ton filma možete shvatiti kada objasnim da tom ex kapetanu koji bez ruka leži u bolnici, trener za poklon nosi puzzle.
5) Vjerojatno najlošije scene igranja košarke ikada viđene na filmu. Nevjerojatno je kada se ljudi koji neznaju hodati, a kamoli glumiti, trude da izgledaju kao loši košarkaši.
6) Kad dribbler ubija, u kadar uleti grafika u stilu one oldskul serije o Batmanu na kojoj piše "BAMMMM" ili "KAPOOOOW".
Jel dovoljno?
Btw usput, poslušah čak 20 minuta audio komentara i pri početku vrlo dobro i ekipica (Fred Travalena, neki voditelj i Raimijev frend Scott Spiegel) sami shvate magnitudu ovoga filma – nešto u stilu "Trebali bi ovaj DVD poslati u Irak i Iran, i riješili bi se neprijatelja".