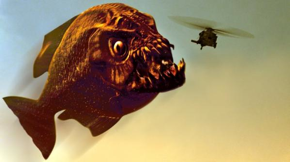 Nakon što brodić američkog veleposlanika koji se opijao sa krdom prostitutki na nekoj rijeci u Venezeueli napada jato krovoločnih mutiranih pirana, američki državni tajnik na tajni zadatak pošalje THE jebača. Čim se dotični pojavi u zemlji koja je u filmu izrazito pro-Američka, počinje filmski trash raspašoj epskih proporcija. Što reći kada najsmješnija stvar i nisu pirane u ZX Spectrum kvaliteti?
Ovaj film ima ono nešto što je potrebno da ga se nakon dest minuta smjesti u sekciju "Filmovi sa ekipu". Kada bi krenuo objašnjavati lude detalje iz filma trebalo bi mi par sati pitanja, tako da ću se fokusirati na ono što je bitno u ovom SyFy/The Asylum spektaklu koji se diči sa 2.7/10 na IMDBu.
Pirane usred mutacija ppostanu ne samo krvoločne, već se progresivno šire, tako da tim znanstvenika nakon što pronađe ostatak spomenute barke u roku od 25 sekundi (na papiru) sve shvati što se zbiva. Upozoravaju našeg THE jebača, čovjeka imenom Paul Logan, čovjeka sa 1000 (minus 999) lica, fabuloznu glumačku veličinu, koji se u svakom svom pojavljivanju u kadru pokaže jednostavno nevjerojatan.
Idemo dalje, gospodin Eric Forsberg, scenarist i redatelj ove abominacije, danima pred početak snimanja bio je zavezan u svojoj fotelji i gledao je reprize CSI: Miamia. Sve trikove kamere koje oni koriste, Eric je upotrebio u Mega Piranhi, ali sa "malkice", ma samoooo "malkice" lošijim rezultatom. Uz to, kamerman je u 10 minuta filma bio potpuno pijan.
Kužite da o filmu imenom Mega Piranha pričam o svemu samo ne o piranama? Nevjerojatno je kako su u nekoliko situacija koristili potpuno iste scene, i to ne tipa u razmaku od deset minuta, već ima jedna situacija gdje barčicu napadaju ribetine i neki tip se usere od straha. E pa isti taj kadar, oni sve lijepo ponove jedno 4-5 puta u razmaku od 25 sekundi… OMFG.
Ima toga još i još, ali zar moram nastaviti? Da i te pirane… 99% spectrum CGI, 1% gumeno izobličeno "nešto". The scene? Ima ih brdo, ali vjerojatno epski napad pirana na gradić na Floridi. Zamislite pirane veličine 20 slonova kako se iz vode bacaju u nebodere. LOL. E da, još jedan epski trenutak – naši hrabri specijalci koji sa "najnaprednijom podvodnom automatskom puškom" kreću u klanje sa jatom pirana. UF.. A drugi glumci? Tifanny – ocvala američka poznata pjevačica iz osamdesetih? UF 2X…
A sada molim vas, pogledajte trailer, nabavite film (ima ga u MaxTV videoteci) i ovak vikend skupite ekipu. Biti će vam zauvijek zahvalni…