Lukas je novi strip iz Bonellija, startan prošle godine. Ako se ne varam sada u Italiji izlazi druga sezona, a srpski izdavač Phoenix Press nedavno je izbacio treći strip prve sezone.
Ovo sa sezonama je đir koji u Bonelliju koriste da se valjda čitateljima stavi na znanja da scenarij možda ima svoj određeni rok trajanja ili pak se radi o smislenom alibiju za gašenje nekih od njih ako ne zadovolje brojke čitatelja. Za čitatelje OK, kraće sezone od po 12 stripova mogu se smisleno zatvoriti u cjelinu ako lik dobije pedalu.
Nedavno sam nabavio prva dva Lukasa, cijena im je 30 kn po komadu, a može ih se kupiti preko stripovi.hr ili uživo u striparnici "Stripovi na kvadrat". Lukas se budi iz groba i izlazi u moderni metropolis. Ubrzo se nađe u obrani nepoznatog lika našeg podijetla (Janko), kojega napada banda gnjavatora. Lukas iz borbe izađe kao pobjednik, ali nam je evidentno da je i besmrtan. Izgubio je pamćenje te ne zna tko je ni zašto mu je jedna ruka u ranama i pokrivena rukavicom.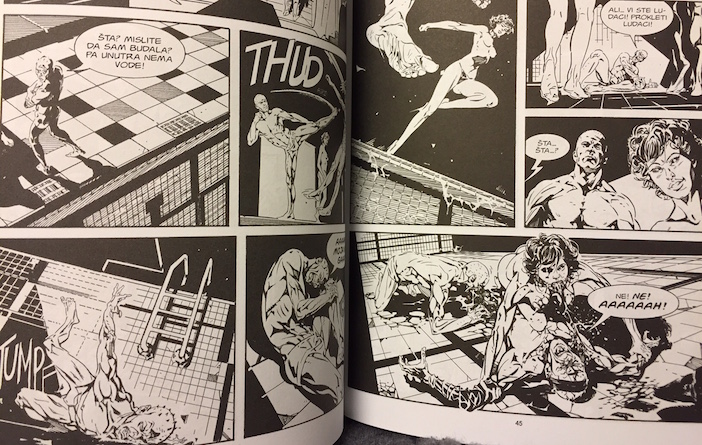 Za prvi dio mogu reći da je ovo sasvim solidno otvaranje. Sviđa mi se to što će se raditi na kontinuitetu, pa lagano saznajemo elemente koje će se kasnije otkrivati. Dobar mi je aspekt to što čovjek nije samo nekakav plastični kulerski tip koji se bori protiv monstruma, već i želi naći nekakav posao – što ga u prvom stripu i smjesti u akciju vezanu za krijumčarenje ilegalnih materijala u leševima.