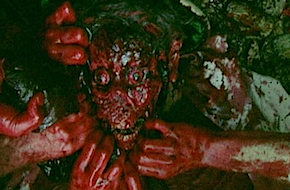 Neki dan mi je trebao film koji mi se može usput vrtiti dok radim neki glupi repetitivni poslovni zadatak za kojeg mi mozak apsolutno ne treba. Gledam malo što bi se poglo pogledati i naletim na Isle of the Damned. Nikad čuo, nemam pojma o čemu se radi – očito nekakav otok, a film je star samo koju godinu, vjerojatno nekakvo nevažno sranje kojemu ne trebam posvetiti 90 minuta koncentracije. Ono što sam vidio, ugodno me iznenadilo.
Isle of the Damned je film namijenjen ljubiteljima filmova ala Cannibal Holocaust. Ono što je najvažnije spomenuti je to da je ovo zajebancija koja na trenutke vrlo zabavno parodira klasike ovog nekada vrlo uspješnog smjera u horroru. Vizualni feeling filma pokušava skinuti izgled filmova koje obrađuje (malo jeftinije dakako), glumci su ekstremno iskarikirani, a glasovi su im "naknadno" sinhronizirani.
U filmu ćete naći svega – od epskih ultra cheesy dijaloga, bizarnih gay scena, masakra, makljaže, zajebancije – film kada počneš gledati jednostavno te zavede. Nešto ovakvo zasigurno ima svoju vrlo limitiranu publiku, ali komotno može spadati pod filmove koji se gledaju uz pivicu sa ekipom.
Film je vjerojatno rađen sa budžetom kakvim se i kod nas snimaju amaterski filmovi, nekako me čak po stilu zajebancije podsjetio na srpski trash uradak "Između smrti i jave".