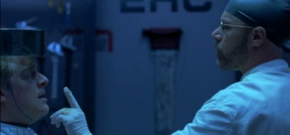 Treći dio filmskog serijala Hostel prebacio je mjesto radnje iz standardno zlih krajeva istočnije Europe u svjetsku metropolu grijeha – Las Vegas. Kako se Scott uskoro ženi, kum mu organizira nezaboravnu momačku večer u Vegasu. Već prilikom prvog pokušaja opijanja, naleću na dvije zgodnjikave escort dame, koje ih upute u ekskluzivni klub u mračnim ulicama nekoliko blokova iza stripa. Zabava počinje…
Već sam u članku o prvom traileru za film napomenuo da trojka ima potencijala radi par varijabli. Prvo, drastična promjena mjesta radnje u grad koji nudi nonstop raspašoj i grad u kojemu sam bio nekoliko puta (najblaže rečeno nije mi pri srcu) su izgledali kao dobra varijanta za serijalu potrebne promjene. Druga važnija stvar je bila to da se režije uzeo Scott Spiegel, član originalne Evil Dead ekipe i režiser meni dragog slashera Intruder (1989). Sa svakim novim filmom, pogotovo u onom nastavku kada se budžet opako smanjuje i izlazak više nije u kinu nego direktno na DVD, postoji niz zamki. Kombinirajući ovu negativnost, sa generalno priznajmo lošim stanjem žanrom u današnje vrijeme, lupili su mi kontru na pozitivna očekivanja, te sam filmu krenuo sa potpuno praznom glavom.
Hm, i sada, kakva je ta trojka? Bez pretjeranog kompliciranja, meni se nije baš dopala. I prvi i drugi Hostel su mi sa opetovanim gledanjima povećavali svoje ocijene, ali ipak vjerujem da se trojki neću ponovno vratiti – eventualno bi pogledao ga sa audio komentarom režisera radi ranije spomenutih detalja. Uvodna scena, ma koliko davala dojam SyFy-eve produkcije, pružala je zanimljiv twist, koji sa svojom finalnom etapom prikazuje da će biti riječ o razvodnjenoj jeftinijoj verziji Hostela. Usput, ime praktički više nema nikakve veze sa filmom, ali nećemo cjepidlačiti, mogli bi povući paralale sa Saw serijalom…
Taj pomak u Vegas je jedna od prvih boljki filma. Vegas prvo uopće ne izgleda kao Vegas. Jest da ima par kadrova vegaškog stripa, unutrašnjosti nekog hotelskog kazina, ali sve ostalo djeluje kao da je (i je) snimano na potpuno drugoj lokaciji. Iskreno, mislim da u Vegasu i javni zahodi imaju smrdljive tepihe na podu – to je jedan od fetiša svake zgrade u tom, po kocki poznatome gradu. Tu tepiha nema. Šalu na stranu, osim atmosfere nestao je taj šarm – nema više tajnovitosti, misterija i ostalih osobina koje su nudila mjesta radnje u protekla dva filma. Ovdje je sve nekako previše sterilno, monotono, pa makar su imali dobro osmišljenu, ali nažalost loše realiziranu ideju ultimativnom kockanju gdje su umjesto chipsa u igri ljudski životi.
Koke nisu nešto, a skoro pa niti jedan lik ne generira nikakav scenaristički zahtjev da mu ti kao gledatelj ponudiš iole kakvu simpatiju. Dojma sam da je poanta filma bila samo nastaviti koncept, unaprijediti (bolje rečeno "unaprijediti") neke osnovne postavke igre i snimiti film čisto radi očekivano solidne zarade na globalnom DVD+Blu-Ray tržištu. Pohvale na ideji uvođenja promjena, pokušaje nekoliko twistova, ali kako i sami možete primijetiti, film me nije baš ni previše zabavio.
Ako se okrenem prema tim torture porn horror elementima, ima tu par scena koje imaju Spiegelov vizualni pečat (mačeta u lice), ali za razliku od prva dva filma ne očekujte ništa iole šokantno ili gnjusno (kukci WTF?) . Kraj me isto tako nije očarao…
U najboljem slučaju film kao dio serijala se može nazvati gledljiv, makar mi je mnogo lošiji od prošla dva Rothova filma. Uz sve to, reći da je film loš bi ipak bilo pretjerivanje. Uz modernu horror produkciju, ljestvica mi se svake godine progresivno snizuje…