Scream Factory, horror divizija Shout Factorya objavila je informacije o prilično kvalitetnom kolekcionarskom izdanju Tobe Hooperova filma Lifeforce. Blu-ray izlazi zadnjeg dana travnja.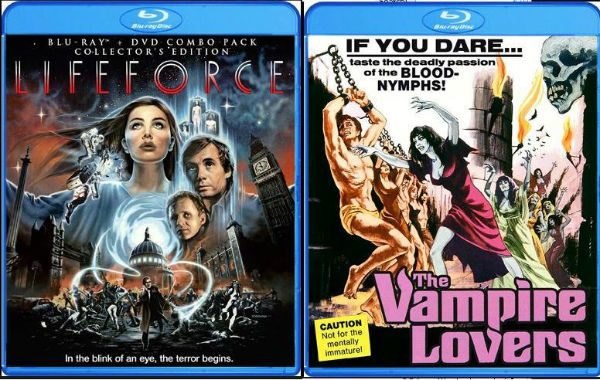 Specijalni dodaci:
• Both Theatrical & International Versions of the film (Theatrical cut available on the Blu-ray only.)

• New Commentary with Director Tobe Hooper

• New Retrospective with Cast & Crew including Star Steve Railsback, Tobe Hooper and others!

•Original vintage "Making-Of Lifeforce" Featurette

• Original Theatrical Trailer

• TV Spot

• Still Gallery

• And more to be announced!

SPECIAL OFFER: Those who order LIFEFORCE from us directly ScreamFactoryDVD.com will receive an exclusive 18"x24" poster featuring the newly commissioned artwork. Only 300 posters will be printed, so these are available while supplies last.
Uz to, kao što možete vidjeti na slici, izlazi i Hammerov The Vampire Lovers, ovo su dodaci:
• Feature Length Commentary with Roy Ward Baker (Director), Tudor Gates (Writer) and Ingrid Pitt (Carmilla) moderated by Jonathan Sothcott.

• Excerpts from the novella Carmilla, that inspired the film, read by Ingrid Pitt

• Original Theatrical Trailer

• New Interview with Madeline Smith (Emma)

• New Interviews with Hammer Films Scholars

• Original Radio Spot