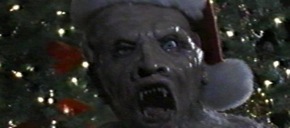 Evo jedan blagdanski film koji to nije. Elves je bizarnost sa kraja osamdesetih, koja čak nije ni izašla na DVD izdanju. Film sam jučer pogledao i proklinjao čovjeka koji me sa svojim forumskim postom podsjetio na ovu degradaciju. Ono što je u filmu najposebnije je njegova fantazmagorična radnja, probajte u glavi zamisliti zaplet sa ovim ključnim pojmovima: goblin, nacisti, Grizzly Adams, četvrti reich i uzgajanje unuke za kopulaciju sa monstrumom.
Da, film je nevjerojatni spektakl scenarističkih zamisli, ali i sve drugo u filmu prati ovu žicu ludila. Film prati događaje djevojke koja živi u čudnoj obitelji gdje je komotno šamaraju i tope joj kućne ljubimce u zahodu. Kada sa frendicima odlazi u robnu kuću preko noći na interni party sa nekim šabanima, u igru ulazi Dan Haggarty (bradonja koji je glumio Grizzly Adamsa), propali pijanica ex policajac sada skoro pa beskućnik, ali i grupa nacista koja ima veze sa djevojčinim djedom. Uz ovu bizarnu ekipicu u igru ulazi i gumeni vilenjak/goblin za kojega je isplanirano da "vodi ljubav" sa djevojkom i tako starta novu savršenu rasu vilenjaka ratnika.
I ne, ne zajebavam se, stvarno se film vrti oko ovog ludog zapleta. Svaki mogući aspekt filma je na razini C filma, a Dan Haggarty kojemu je 1989. godina bila produktivna u žanru (sjetimo se druge ludosti The Chilling sa Lindom Blair) se savršeno uklapa u blijedilo filmića zvanog Elves.
Goblin ili šta je već bi generalno izgleda ok na fotografiji, ali u filmu ispada mega smiješan jer je ova gumena lutka napravljena sa samo jednim izrazom lica (otvorena usta) i jednostavno se nemože pokretati.
I šećer na kraju, izreka iz filma: "When there is no more room in Hell, the Elves will walk the Earth". Usro sam se od smijeha u tom trenu…