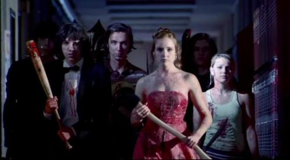 Maturalna večer san snova je većine američkih teenagera. Film prati dogodovštine nekoliko klasičnih teen likova koji se pripremaju za krunu svoje srednjoškolske ere, ali planove im kvari infestacija živih mrtvaca. U stilu zombie filmova stare škole, u blizini gradića nalazi se velika tvornica koja smrdi na loše, a toksične pare i otpadni materijali mrtvace pretvaraju u zombije.
Dance of the Dead je zombie horror komedija koju sam gledao još pred par godina, ali vidim da sam zaboravio napisati recenziju, pa sam iskoristio novokupljeni DVD da "ispravim nepravdu". Horror komedije generalno ne ispadaju dobre, ali mogu reći da mi ova definitivno spada u top 10.
Film se otvara kao tipična teeny komedijica, upoznajemo plejadu likova na koje smo naučeni (jel' potrebno uopće nabrajati stereotipe?), ali već od početka stvari su posložene dosta dobro, te si već nađeš par likova za koje ćeš "navijati" tijekom zombie makljaže. Ono što mi se svidjelo da je napokon netko zaposlio teenagere da glume teenagere, nema tu šprehi ala Beverly Hills gdje tip sa tridesetpetoro djece glumi mladog studenta. Kada se biraju realno mlađi glumci, pogotovo u ovakvom indie horror filmu, često su dubiozni odabiri mladog "talenta", dok je u "Dance of the Dead" na sreću situacija u kompletnoj suprotnosti – skoro svima gluma ide dosta dobro.
Nakon scene koje podsjećaju na stare "Return of the Living Dead" (masovno dizanje zombija na groblju uz povike BRAIIIIINS), autori se trude biti originalni i nude pregršt zabavnih interakcija sa zombijima. Ima tu igranja bejzbola sa glavama, korištenja udova za probijanje usta (ne na TAJ način;), korištenje štikla sa bušenje rupa u glavi itd. Efekti su OK, nisu spektakularni, ali mnogo bolji od sličnih filmova snimljenih sa limitiranim budžetom.
Ime filma odnosi se na ples vezan za maturalnu večer, ali i generalno ples zombija – naime, živi mrtvaci u ovom filmu vole mjuzu, te se u par scena doslovno provodi nekakva krilatica – punkom protiv zombija!
Zabavan film, opuštajuća horror komedija.