Propali pisac vraća se u svoj rodni gradić na poziciju zamjenskog učitelja. Prvi školski dan počne loše kada ga jedan od osnovnoškolaca počne vrijeđati, ali to ispada kao minorni u usporedbi sa onim što ga očekuje. Među djecom dolazi do infekcije virusom usred koje mališani postanu krvoločni monstrumi željni krvi.
Cooties je horor komedija u kojoj se skupila respektabilna komedijaška ekipa iz raznoraznih serija uključujući 30 Rock, The Office, Mom itd. Glavnu ulogu u filmu ima Elijah Wood, a tu je i sada već kultni The Officeov Dwight – Rainn Wilson. Horor komedije teško uspjevaju, pa tako nažalost ni ovo nije nešto što bi se ikako pozitivno istaklo. Naprotiv…
Ajmo prvo na horor aspekte, pa ćemo poslije u "komedijaške vode". U efektnom uvodu pratimo put od inificirane kokoše do curice koja jede meso od dotične živine i eto u vrlo kratkom roku mala postane monstrum. Napadne jednog kolegu, pa drugog i ubrzo sva djeca trčkaraju krvavih očnjaka i u zombie manirama hrane se učiteljima i ekipom koja radi u školi. Tim preživjelih učitelja skriva se od njih i pokušavaju uz "dobre fore" nekako pobjeći iz škole.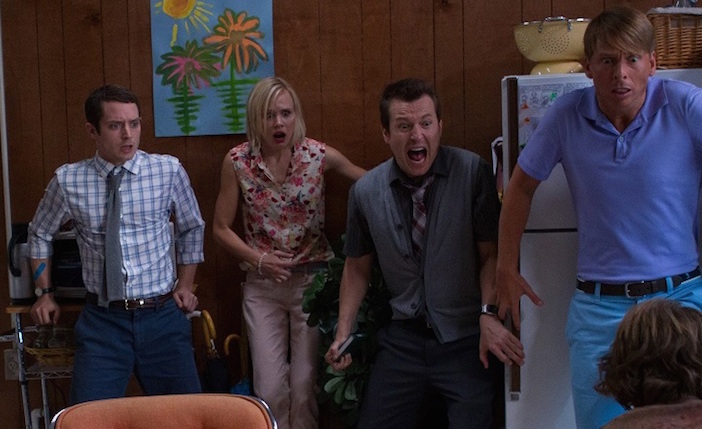 Izgled inficirane djece je u većem broju slučajeva loš, najviše se makeup fokusira na prolivenoj krvi po njihovim licima, a ni maske nisu nešto specijalno. Nije to grozno kao u C horroru, ali evidentno je da se na taj dio nije trošilo previše kreativnosti. Kroz kritiku američkog školstva, učenici idu korak dalje od realnosti i ubijaju učitelje, a na ovima je da se nekako izbore za svoje živote.
Sam humor je očito posljedica neuspješnog scenarija. Ok, nije ni problem što sam se možda nasmijao dva puta, više me smetala hrpa neuvjerljivih šali koje su baš na osnovnoškolskom nivou. Primjer: tip vozi auto sa pogonom na zadnje kotače (rear wheel drive) i jedno minutu pokušava to izgovoriti sa svim mogućim varijacijama izgovora fraze "riiaaar viiil".
Gubljenje vremena…