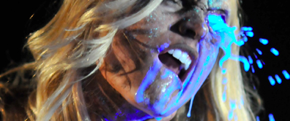 Chillerama je horror omnibus snimljen od strane četiri poznata redatelja – Adam Rifkin, Tim Sullivan (2001 Maniacs), Adam Green (Hatchet), te Joe Lynch (Wrong Turn 2). Svaki je dobio svoj segment i otvorene ruke za napisati ideju, scenarij i snimiti očito što veću ludost koju su mogli zamisliti. Teme su vezane uz verziju Godzille u kojoj je negativac veliki spermij, gay mjuzikl o medvjedodlacima (wearbears), prikaz Adolfa Hitlera i stvaranja židovske Frankensteinovske kreacije, te raspad sistema uz porno zombije.
Wadzilla – Segment snimljen u stilu pedesetih u kojemu čovjek sa manjkom spermija počne uzimati testne lijekove koji bi mu trebali povećati broj spermija. Lijek zapravo radi, ali mu ne povećava broj, nego veličinu spermija. Dođe to toga da svaki put kada se napali mora se olakšati, ali na prvom spoju uspjeva iz sebe izbaciti polametarski spermij koji počne divljati. Što da kažem, stvari eskaliraju do ala-Godzilla borbi u gradu gdje general Bukakke (Eric Roberts) pokušava spasiti New York od spermatozodinog zla.
Korz cijelu epizodu sperma teče sve u šesnaest, sve je snimano kao zajebancija na Godzilla filmove, a segment nudi desetke ultra bolsnih situacija koje eskaliraju sa spermijem koji kreće silovati Kip Slobode. Ultimativni film za ekipu!!!
I was a teenage wearbear – Meni personalno najlošiji segment Chillerame, u stilu šezdesetih pratimo glazbenu priču teenagera koji vuče prema "gay strani", a James Deanovski lik ga pretvara u wearbeara, gay vukodlaka koji se iz čovjeka pretvara u ultra dlakavo gay monstruzono čudovište. Piatte se WTF, da i ja sam to stalno imao u glavi. Osim ultra lude ideje, segment se previše gubi u pjesme, te mu fali dinamike. Brutalne makljaže dakako uopće ne fali.
Diary of Anne Frankenstein – Ovaj segment sam pogledao na prošlogodišnjem FrightFestu, pa se nema smisla ponavljati. Pročitajte zasebnu recenziju Greenove crnobijele ludosti, koja je zasigurno najbolji dio Chillerame.
Zom-b-movie – Makar imamo mali teaser u kojemu Joe Lynch najavljuje svoju epizodu koja se bazira na ekstremnim načinima korištenja govna i proljeva u hororr filmu (WTF), Lynch je na sebe preuzeo okvirnu priču ovog omnibusa koja se dešava u drive-in kinu koje upravo prikazuje segment Chillerame. Njegov je rad baziran na zombije, dolasi do zombie infestacije u kojemu je krilatica "when there's no more room in hell, the dead shall fuck the earth". Da baš to, zombiji i nezamislivi načini kopulacije sa svakim mogućim dijelom ljudskog tijela. Ludost totalna!
"Chillerama" je ultra bolesni omnibus koji se jednostavno mora gledati u društvu uz pokoju pivicu. I sami redatelji su pred premijeru u Londonu rekli publici da se što više napije, jer jednostavno se film mora gledati na taj način.