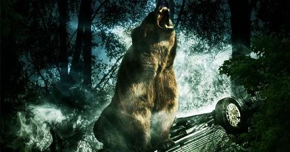 Dva brata u društvu s curama odluče kraticom ubrzati put prema cilju, pa sa autom kreću na šumsku cestu. Dakako puca im guma, a kada izlaze iz auta napada ih medvjed. Jedan od njih ispuca cijeli šaržer u medvjeda i ubije ga na mjestu. Očito im nije dan, jer ovo što su ubili je samo mladunče, a "mama međed" želi osvetu…
Film Bear iliti po naški Grizlijeva osveta ispao je kao savršen film za pogledati dok sam sat i pol sklapao neku policu za vina. Ne moraš previše obazirati pažnju jer se radnja bazira na vrlo malom prostoru (u i oko auta), sa malim brojem likova (početnih četiri) i jednim medvjedom. Nakon vrlo brzog napada medvjeda, slijedi nam kojih dvadesetak minuta diskusija gdje možemo "uživati" u bratskim svađama (jedan uspješan poslovni čovjek, drugi wannabe glazbenik koji "troši život"). Red priče, red napada medvjeda itd do kraja.
Ono što je pozitivno da se u filmu koristio pravi medvjed. Svaka čast na odabiru, zasigurno bolja solucija nego CGI kompjuterizirani dlakavac, ali i to nosi neke negativne strane. Postoji samo određeni niz kadrova na koji možeš bazirati akcijske scene filma, tako da u nekim trenucima izgleda kao ono kada u kadru imate veselog psa koji sa isplaženim slinavim jezikom gleda u kameru, a zvučna podloga je bjesomučno režanje.
The scena filma – tip se dere prema medvjedu i govori "I'll fucking kill your babies". Film traje ispod sat i pol i nije nešto za preporučiti.