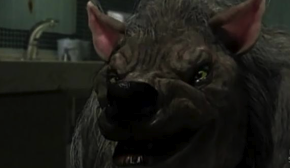 Na aerodromu u New Yorku nađe se fotografkinja koja se sa za zadnjeg posla vratila sa vučjim ugrizom na ruci. Osjeća se malaksalo te odlazi na zahod gdje se pretvara u vukodlaka. Deseci putnika bivaju ugriženi ili raskomadani, a oni ozlijeđeni se i sami promptno pretvaraju u vukodlake. Zabava tek počinje.
The Asylumov film Battledogs ima herca da gledateljima bar ponudi nekakav novi pogled na tipične horrore sa vukodlacima. Odabir krcatog aerodroma za prvi bloodbath je pohvalan, a kako film odmiče sve više i više kreće u miks sa nekakvim filmom katastrofe budući da se "epidemija vukodlakitisa" počne ubrzano širiti po New Yorku, što (nije neki spoiler) čak dolazi da detoniranja nuklearne bombe na Manhattanu.
U filmu se skupilo desetak glumaca koje ste sigurno negdje vidjeli, od Craig Sheffera iz Nightbreeda, preko Dennis Haysberta (prezidente is serije 24), do iz naftalina izvađene Ariane Richards (mulica iz Jurassic Parka). Kao i kod sličnih The Asylumovih produkcija, akcija se bazira na CGI-u, tako da su i ovdje svi vukodlaci kompjuterizirani, uglavom loši, ali nisu baš dno dna.
Dodatni zanimljiv aspekt filma je nekakav politički ton koji se provlači kroz cijeli film. Ne govorim samo o klasičnim forama vojske i vlade i njihovih opsesija korištenjem vukodlaka kao možebitnog oružja, nego o povlačenju paralela između zatočenih vukodlaka u ljudskom obliku i možebitnih terorista (+ osvrt na patriot act). Jest onako jeftinjava fora, ali neočekivano za ovakvu B produkciju.
Battledogs nije film za ekipu, nije nešto što bi se moglo previše preporučiti, ali bar ima taj neki "grandiozniji" pogled na tipičan film u vukodlacima. Na trenutko toliko glupo da je zanimljivo gledati ;)