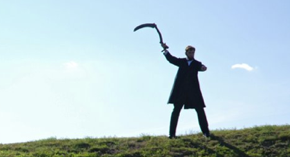 Kao mali dječak, Abraham Lincoln doživio je tešku traumu nakon što mu je majka postala zombie i napala oca. Abeu je u tom trenu jedini izlaz bio ubiti majku, što je vrlo brzo i efektivno učinio. Nakon nekog vremena, kako i sami znate, Abraham Lincoln postaje predsjednik Sjedinjenih Američkih Država. Usred borbi sa konfederacijom, dolazi do nove epidemije zombija.
Film "Abraham Lincoln: Vampire Hunter" danas se počinje premijerno prikazivati u SAD-u. Makar ime djeluje trashy, riječ je o ekranizaciji uspješnog istoimenog romana Seth Grahame-Smitha (Pride and Prejudice and Zombies), koju je producirao Tim Burton, a režirao Timur Bekmambetov (Night Watch, Day Watch). Ovdje dakako nije riječ o tom filmu, već o novoj kreaciji studija The Asylum, koji se po stoti put piggybacka na neki poznatiji ili očekivaniji film.
Abraham Lincoln u ovoj varijanti borbe protiv monstruma, odabire elitnu četu i kreće prema jugu sa ciljem riješavanja zombie infestacije. Na putu nalazi na generale i vojnike iz suprotnog tabora, ali se nekako uspjevaju ukomponirati i krenu u zajedničku borbu protiv neprijatelja. Tu je dakako i John Wilkes Booth, Lincolnov krvnik u pravom životu, koji u The Asylumovoj viziji ima malo drugačiji razlog za napad na prezidentea.
Ako ste gledali bilo koji The Asylumov film znate da možete očekivati tonu dosadne priče, loše CGI efekte i sveukupno djelo koje više manje nema nikakve poante i nema potrebe za gledanjem istog. Nema tu neke napetosti, elemenata zabave, riječ je samo o kreaciji koja je zadovoljila formu filmskog djela i to bi bilo to. Začudo, glavnu ulogu je vrlo solidno odradio Bill Oberst Jr., čovjek koji je nedavno nominiran za Emmya. Bizarno je u The Asylumovom filmu naići na individuu koja ne prikazuje glumačko znanje ekvivalentno naturščćicima iz RTL-ove Zabranjene Ljubavi.
Eto, riješio sam i to sa tapeta. Uskoro nam stiže i "pravi" Abraham Lincoln protiv vampira – film će se prikazati i u hrvatskim kinima.