Grupa ljubitelja životinja provaljuje u istraživački laboratorij gdje se rade testovi na čimpanzama. Iako su upozoreni da su majmuni inficirani, oni počnu otvarati kaveze i započinju kaos epskih proporcija. 28 dana kasnije, dostavljač Jim budi se u bolnici i shvaća da je London skoro pa prazan.
"28 Days Later" je sada već kultno žanrovsko ostvarenje, koje nisam gledao još od kada je izašao. Tada se nakon premijere digla itekako bura oko filma, pa sam na Amazonu (ili zapravo bio je to neki manji DVD shop na netu) bacio preorder za "28 Days Later" DVD izdanje. Kada je došao, film je itekako ispunio sva moja očekivanja.
Totalno je zanimljivo na ovo gledati kroz prizmu toga da je prošlo skoro pa petnast godina i da je u međuvremenu izašla masa filmova koja je ili emulirala materijale iz ovog filma ili pokušala napraviti nešto na planu "trčećih zombija". Uopće nije riječ o zombijima, već o ljudima inficiranim "bijesom", ali film se u to doba u horor svijetu uvijek stavljao u prizmu zombie filmova.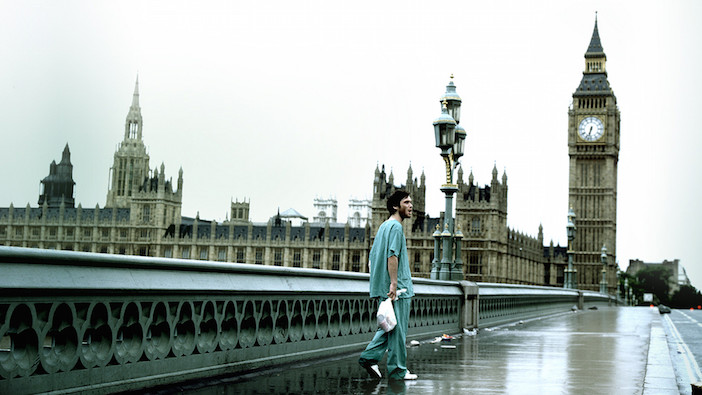 Jim je običan čovjek, nit' je super heroj, niti neka fizički jaka njuška, apsolutno nema pojma što se desilo te je kao takav bačen u svijet gdje smrt vreba doslovno na svakom koraku. Savršen lik u kojega se možeš uživiti i pratiti njegove putešesije. Usput, Jima jako dobro glumi Cillian Murphy, kojega sam kasnije vidio u par filmova uključujući Nolanove Batmane. Kroz događaje u filmu, od čovjeka koji nije zgazio muhu, Jim jednostavno mora postati čista suprotnost, što mu u završnom dijelu itekako uspijeva. Survival of the fittest!
Radnja filma "28 Days Later" prati Jima i par preživjelih, koji pokušavaju doći do vojne ispostave gdje ih čeka spokoj i mir. Ili barem to misle. Po putu do te pozicije, proći će kroz nebodere smrti, tunele pune inificiranih itd.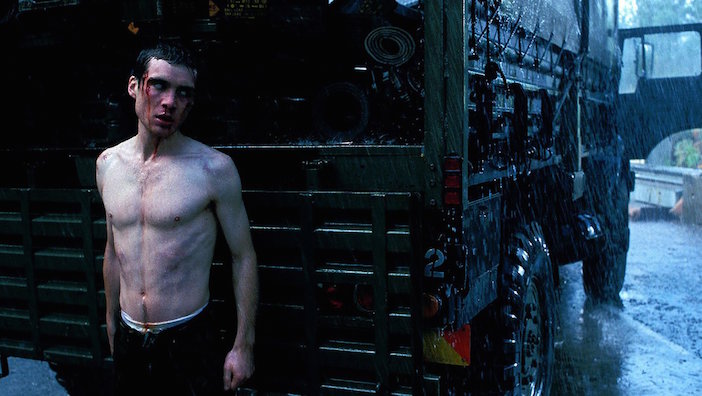 Ne mogu ne spomenuti sličnost stripa/serije The Walking Dead sa nekim elementima filma "28 Days Later". Buđenje lika na početku samo je jedan od elemenata, kroz gledanje filma mi se bar 4-5 puta upalila lampica za neku poveznicu sa TWD. Glede buđenja Ricka ili Jima u bolnici, koliko me pamćenje drži, kreator The Walking Deada je u komentarima na pisma čitatelja u jednom od prvih brojeva stripa napomenuo da je film pogledao tek nakon što je već poslao prvi broj stripa. Ovi kasniji elementi mogu, ali i ne moraju biti inspirirani određenim elementima filma.
28 Days Later je solidno "ostario", možda sada nije toliko spektakularan kakav mi je bio tada – ipak sam u međuvremenu pogledao minimum 1000+ horora. I dan danas nudi odlične napete situacije, vrhunsku režiju i montažu te itekako pamtljivu glazbenu podlogu. Preporuka!