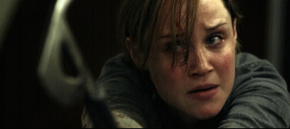 Četvoro sretnika je odabrano od strane iznimnp popularne društvene mreže da krenu na potpuno plaćeni put privatnim zrakoplovom iz Londona u New York. Ljudi koji se ne znaju, ali su si pred koji dan pogledali profile na sajtu, sada kao lordovi uz šampanjac uživaju u luksuznom avionu. Ubrzo nakon polijetanja na ekranima počninje nagradna igra sa pitanjima i sadržajem kave ovi ni u najgoroj noćnoj mori nisu očekivali.
Pred desetak minuta završila je svjetska premijera filma "Panic Button", nečega što bi se moglo nazvati manifestom protiv Facebooka sa elementima Saw serijala. Naime, na moju sreću uopće nije riječ o torture pornu (btw, prvi Saw to nije ni bio), već od prilično zanimljivom konceptu koji kao da je ciljan za ljude poput mene koji ne shvaćaju koja je poanta djeljenja pojedinosti svog privatnog života neznancima (i "polu znancima") preko Interneta.
Čim počne ova igra na život i smrt, odmah se identificiraju sve negativne konotacije društvenih mreža, te na malo ekstremniji način gledamo posljedice prevelike oslonjenosti ljudi prema tehnologijama, koje uopće ne poštuju (i ne moraju) privatnost svojih korisnika. Utjecaj Saw filmova se vidi kroz onaj "pametniji" dio filma, zagonetke tj. bolje rečeno zadatke koje sudionici dobivaju u pokušajima da ne kazne sebe i bližnje svoje.
Kako se film dešava unutar jednom malog zrakopolova, bitno je da su likovi dobro osmišljeni, te da su glumci na nivou, a mogu potvrditi da je i jedno i drugo vrlo solidno odrađeno. Likovi su sami po sebi su OK, a dodatno se vežeš uz njih, kada saznaš te neke tajne i tajnice za koje misle da nitko drugi ne zna. Na netu, sve ostaje negdje zapisano, kako je to i prikazano u filmu. Filmići koje gledate, poruke koje pišete, profili koje otvarate, etc. Bez psovanja, ubijanja, makljaže i napetosti, film sa ovakvom idejom u svojoj laganijoj varijanti trebao bi se snimiti za potrebe edukacije u osnovnim školama.
Prva polovica filma je odlična, dinamična, zanimljiva, a kako se gube mogućnosti uvođenja novih elemenata, kasnije na trenutke postaje malo dosadnjikavo. Na sreću radnja se ubrzo nakon zamora ponovno pokreće i uz cilj avio leta, te neke dodatke na kraju, Panic Button od mene dobiva pozitivnu ocjenu.