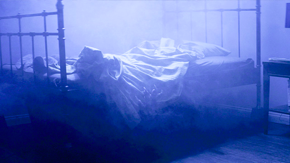 Teenager Neal se nakon dvije godine vraća u rodni dom, nakon što se morao maknuti jer je uzrokovao požar u kojemu mu je poginula majka. U domu ga dočeka otac, njegova nova djevojka i mali brat sa kojim je bio iznimno povezan. Sam dolazak u kuću Nealu uzrokuje anksioznost i uskoro saznajemo da je to uzročno posljednično vezano sa time što mu ispod kreveta živi monstrum koji ga je uvijek želio ubiti.
Povratkom u kuću saznaje da je odmah nakon njegovog odlaska u njegovoj sobi počeo spavati mlađi brat te da je i on u svo to vrijeme imao istih problema. Monstrum se pokušava svake noći približiti dječaku, a mali se već naučio pravila ponašanja: spavanje uz svjetlo. Sada kada je stariji brat ovdje, njih dvoje će se nekako pokušati riješiti monstruma za sva vremena.
Film Under the Bed redatelja Stevena Millera ovako brzinski opisano izgleda kao nešto influenicrano filmovima iz osamdesetih u kojima su se djeca borila sa monstrumima koji žive u njihovojn kući ili blizini iste. Sinopsis nekako ponajviše podsjeća na The Gate, a može se naći i nešto erlemenata koje smo nedavno vidjeli u Danteovom The Hole 3D. U globalu riječ je o sasvim prosječnom monster filmu koji se skoro do kraja ne odmiče od klišeja na koje smo u ovakvim tipovima filmova navikli.
Ono što je mene najviše smetalo je to da dečki znaju da im je jebeni monstrum pod sobom, pa čak imaju i njegovu sliku, ali ne žele nikome reći te starci misle da je bar jedan od njih totalno lud. Debilana žešća, pogotovo nakon spomenutog požara koji je zapravo bio rezultat borbe protiv monstruma. Previše se vremena fokusira na ove diskusije i borbu sa ocem, tko je lud, tko nije bla bla.
Jedno desetak minuta filma je odlično koncipirano, snimljeno i vizualno mi se baš sviđalo. Riječ je o prvom dijelu završne borbe u kojoj se monstum napokon počne manifestirati i prelazi sa riječi (urlika i tapkanja šapom) na djela (čupanje glava). Nažalost ovo je bilo prekasno, budući da se većina radnje več odvrtila te je stigao kraj. Fantasy land pred kraj, whatever, a tek način na koji se jedino može ubiti monstruma? Uf, žešća ludost.
Ne znam, meni je ideja monstruma pod krevetom ili pak monstruma u ormaru ultimativna. Svi smo kao mulci bar jednom zatripali na neke zvukove u svojoj mračnoj sobi, čudno mi je da se taj element previše baš ne eksploatira u filmovima. Radi ideje sam se baš veselio filmu, a ono ispao ćorak.
Za sve vezano uz FrightFest 2012, klik na festivalski logo: