Vojnički raspoloženi Burt Gummer preuzima glavnu ulogu u Tremors serijalu. U početnojn sceni filma napokon je dobio službenu odoru, sada pomaže argentinskoj vojsci u topničkoj borbi protiv graboida i shriekera. Nakon obavljenog zadatka vraća se u gradić Perfection u Nevadi, kolijevku Tremors turizma, ali i mjestu začetka nove iteracije monstruma.
Već je Tremors dvojka bila pomalo trashy, ali trica to diže na novu razinu. Radnja je praktički tu negdje ista kao i do sada, western borba sa dotičnima, makar već nakon prvog Tremorsa oni podzemni graboidi gube primat. Dvojka je uvela shriekere, a trojka… Eh…
U trojci dolazi do novih živina, kasnije nazvanih – ass blasters. Riječ je o modifikaciji shriekera koji sada već liče na određene dinosaure popularizirane u Jurassic Parku, a proizvode pogonsko gorivo prdenjem i na taj način mogu letiti. Assblasteri lete poput zmajeva, puštaju zapaljeni plamen iz dupeta i napadaju Burta i njegove lokalce. Za živine koriste se određene snimke iz početnog Tremorsa, dok se za assblastere najviše koriste CGI efekti. Kompjuterski efekti su još lošiji od onih u dvojci, klasičan SyFy đir… Kad assblaster nije od pixela, onda su scene u mraku, poput one završne.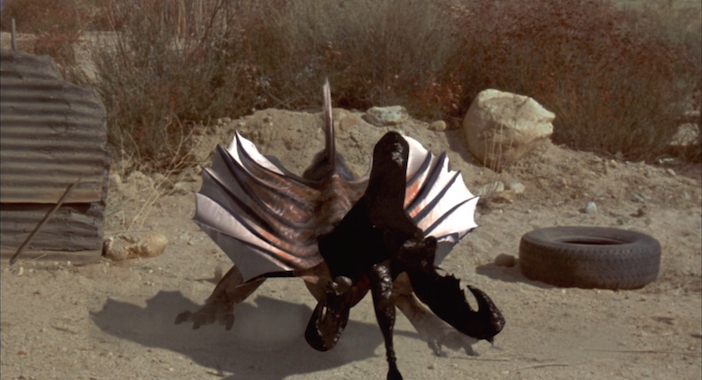 Problem kod Tremors nastavaka je da djeluju kao nekakve kopije originala u kojima se samo ubacuju neki omanji inovativniji elementi i nove verzije monstruma. To je malo zamorno, pogotovo kada u dva dana pogledaš dva nastavka.