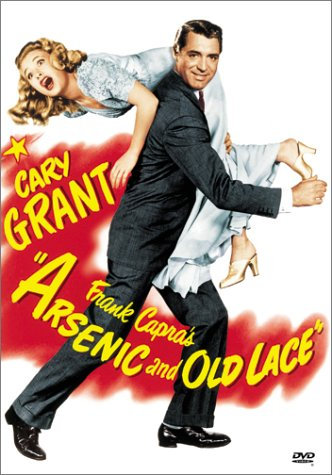 Director:
Frank Capra
Writers:
Julius J. Epstein (screenplay) and
Philip G. Epstein (screenplay) ...
Genre:
Comedy | Crime | Thriller
Wikipedia wrote:Arsenic and Old Lace is a 1944 film directed by Frank Capra based on Joseph Kesselring's play of the same name. The script adaptation was by Julius J. Epstein. Capra actually filmed the movie in 1941, but it was not released until 1944, after the original stage version had finished its run on Broadway. The lead role of Mortimer Brewster was originally intended for Bob Hope, but he couldn't be released from his contract with Paramount. Capra had also approached Jack Benny and Ronald Reagan before settling on Cary Grant. Boris Karloff played Jonathan Brewster, who "looks like Karloff", on the Broadway stage, but he was unable to do the movie as well because he was still appearing in the play during filming, and Raymond Massey took his place
Plot:
Mortimer Bruster is a newspaperman and author known for his diatribes against marriage. We watch him being married at city hall in the opening scene. Now all that is required is a quick trip home to tell Mortimer's two maiden aunts. While trying to break the news, he finds out his aunts' hobby; killing lonely old men and burying them in the cellar. It gets worse
Cast
Cary Grant ... Mortimer Brewster
Priscilla Lane ... Elaine Harper
Raymond Massey ... Jonathan Brewster
Jack Carson ... O'Hara
....