Directed:
Paween Purijitpanya, Visute Poolvoralaks, Songyos Sugmakanan, Parkpoom Wongpoom i Banjong Pisanthanakun
Starring:
Jirayu Laongmanee
Worrawech Danuwong
Charlie Trairat
Nicole Theriault
Marsha Wattanapanich
Trajanje: 125 minuta
Reklama filma...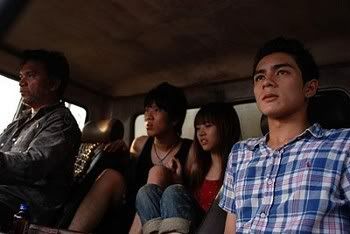 PLOT:
"- Phobia 2 is dissected into 5 shorts stories; Novice, Ward, Backpackers, Salvage, and In The End."
O filmu:
-
HororFilm Playground recenzija...
- One of the best movies I had the opportunity to see at this year's FanTasia Film Festival was the Thai horror anthology Phobia 2, which "features five short films that compile what I believe is the second best horror anthology in the past ten years (Trick 'r Treat is still better), thus proving that anthologies can still deliver the goods (the best part is that they're only 20 minutes each, so if one sucks, it'll be over before you fall asleep)." Click the title for the full review or read on for a look at (sweet) posters for each of the 5 segments. - MrDisgusting (
http://www.bloody-disgusting.com/news/20879
)
- I admit this movie is excellent. It got more scares and more gory. The movie had 5 stories("Novice","Ward","Backpackers","Salvage","In the end"). I like 5 of them. "Novice" is gory. "Ward" is scary, "Backpackers" is thrilling, "Salvage" is scary yet gory and "In the end" is Funny and scary. Phobia 2 is better than 4BIA. In 4BIA, Paween Purikitpanya made the story a little bit weird. But, well done for the improvement at Phobia 2. In Phobia 2, "In the end" Had the same cast as 4BIA-"In the middle". But, i think they are funnier at this movie. And Marsha Wattanapanich (who played at "Alone")is funny to you know. But she act funny a little overreacted. That's just what i'm going to say. Well done Phobia 2.