Blood II: The Chosen is a first-person shooter computer game developed by Monolith Productions and distributed by GT Interactive. Unlike the first installment, Blood, which was set in 1928, it takes place in the year 2028, so in addition to conventional weapons and magical items also incorporates science-fictional technology. Much like its predecessor, the game contains excessive graphic violence and black humor.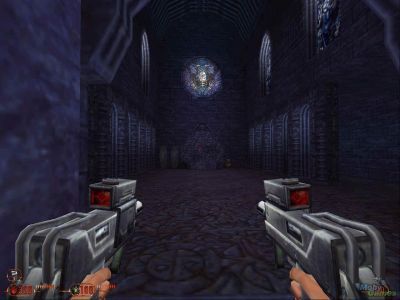 Story:
"- The game takes place in 2028. Caleb, the protagonist, has spent the last century since Blood searching for a way to resurrect his comrades, The Chosen, who were killed in the previous game by the Cabal, a cult dedicated to the worship of the evil god, Tchernobog. The Cabal, in the meantime, has spent the century since Tchernobog's death by Caleb's hands turning the cult into a global mega-corporation called CabalCo, which uses its economic influence to control the world's populace. This is all thanks to Gideon, the Cabal's current leader who has been raised to restore Tchernobog and destroy Caleb, now called the "Great Betrayer"

The game begins with Caleb riding a CabalCo subway train, where he discovers that Gideon is the one driving, after Gideon orders his troops to attack. Ready for a fight, Caleb pursues him through the train, which Gideon rigs to crash before escaping. After he regains consciousness, Caleb continues to chase Gideon through the city of New Town, leading to a few short encounters. He later catches up to Gideon in a CabalCo-owned museum, but before they fight, Gideon's bodyguard fires an experimental weapon creating a dimensional rift. Failing to harm Caleb, it instead brings back Gabriella, one of The Chosen, prompting Gideon and his companions to retreat.
From this point on, Caleb begins encountering strange creatures and people infested with strange mind-controlling parasites as he continues to hunt Gideon; fighting through CabalCo housing, steam tunnels, disease labs, and even an air ship, before heading off to a Cabal controlled cathedral. Gideon is nowhere to be found and he is instead met with a giant of the creatures called the Naga, which Caleb defeats. Gabriella comes up from nearby subway tracks and probes Caleb about the creatures; Caleb has no good answer, and Gabriella expresses her doubts over Caleb's ability to handle this problem. Caleb tersely reassures her, and runs off to catch a train, which again crashes.

Caleb returns to his goal of killing Gideon, ignoring the creature problem, other than killing any encountered. After cornering Gideon in a CabalCo safe house, he is unexpectedly joined by Ishmael, another of The Chosen, after Gideon's bodyguard uses his weapon again. Gideon and his companions again escape, this time in a helicopter. After talking with Ishmael, Caleb fights his way through many CabalCo-owned institutions such as sewage and meat treatment plants and dams, as well as fighting through the subway system many times trying to get to the old underground.

Once there, he fights off a beast called a Behemoth and meets Ishmael again. During both encounters, Ishmael explains that the creatures are the inhabitants of an invading dimension, accessing our world through tears in reality left by the death of Tchernobog, who maintained the walls separating realities, which have finally broken down due to the Cabal's experiments. Only Caleb can stop the invasion from consuming our world, as he inherited Tchernobog's power after killing the dark god. Caleb shrugs off Ishmael's concerns, not accepting his powers, and returns to hunting Gideon.[6][7]
Just before he leaves, Ishmael explains the whereabouts of Ophelia – the final Chosen and Caleb's lover; she is at CabalCo headquarters in Gideon's temple, the epicentre of the rifts. Caleb proceeds there, and, after dealing with several Cabal-created obstructions such as a raised bridge, finds Ophelia. Gideon returns and carries Ophelia away before Caleb can rescue her. Angered, Caleb blasts his way through CabalCo's offices, electrical generation areas, CabalCo's R&D lab, and finally finds Gideon on the rooftops. After Caleb defeats Gideon, with Ophelia freed, Gideon retreats through a dimensional rift. Against Ophelia's advice, Caleb follows him through.
Caleb finds Gideon in an ancient temple, part of a large strange citadel, and faces his spider version. With Gideon dead, Caleb fights many of the otherworldly beings until he encounters three undead forms of his comrades. They introduce themselves as The Ancient One, the leader of the invasion. After clumsily explaining their plans,[9] Caleb faces them, before falling and finding the being's true form. After defeating the squid-like creature, the real Chosen appear. Grudgingly, Caleb gives in to their wishes and re-binds the realities, and the four Chosen begin their long walk home."
Recenzija igre